SEI is an approved solar trainer for the North American Board of Certified Energy Practitioners (NABCEP) PV installer certification, a voluntary certification providing a set of national standards by which PV installers with skills and experience can distinguish themselves from their competition.
By Kristopher Sutton, Solar Energy International PV Instructor, NABCEP Certified PV Installer #041704-39

As a NABCEP Certified PV Installer, it's not uncommon to find that before you know it, your three years are up and it's time to be recertified. Speaking from personal experience, these three years go by quite quickly. I was certified in 2004 and have gone through the recertification process in 2007 and 2010, with 2013 recertification just around the corner. Each time I think I'm going to be more on top of my educational hours for the next round, the deadline arrives. Between life and work, time can pass very quickly, and obtaining the recertification hours tend to get pushed toward the bottom of the list.
I know I'm not the only NABCEP certified installer like this. You know who you are ...
To recap (just in case you haven't been through the process yet), NABCEP requires 18 hours, of which:
1.) At least 6 hours on the latest version of the National Electric Code (NEC), including Article 690
2.) At least six 6 hours of technical PV related to the most recent version of the NABCEP PV Installer Task Analysis or complementary to PV and
3.) Up to 6 additional hours of instruction related to PV or renewable energy.
What I appreciate about Solar Energy International's Continuing Education Program is that it's so easy to get hours. We offer a variety of ways to get your CE hours that you can do for a short time in the evening or at conferences you may be already attending.
PV America West 2012PV America-San Jose, CA, March 19-21
Come one day early and knock out 8 of the 18 hours through SEI's one-day top-notch trainings. (And no, I'm not just saying this because I'm co-teaching one.):
• Smart PV System Design for the Solar Professional
(Register online here: http://pva12.mapyourshow.com/5_0/sessions/sessiondetails.cfm?ScheduledSessionID=1AA1)
NABCEP CEC Credit Hours Total: 8; Code: 2 & Task Analysis: 6
Sunday, March 18, 8 a.m. - 5:30 p.m.
This training will focus on PV system design strategies - including equipment specification, siting considerations, and data monitoring - that meet 2011 NEC requirements. This training will also cover code compliant conductor sizing.
Who should attend? PV System Integrators, Designers, Engineers, Installers, and Field Service Technician
• PV System Operations and Maintenance
(Register online here: http://pva12.mapyourshow.com/5_0/sessions/sessiondetails.cfm?ScheduledSessionID=1AAE)
NABCEP CEC Credit Hours Total: 8; Code: 2 & Task Analysis: 6
Sunday, March 18, 8 a.m. - 5:30 p.m.
Learn best practice operations, maintenance, and troubleshooting to insure system longevity, peak productivity, and predictable ROI. Ground? fault, arc? fault, and other common installation errors and issues will be discussed.
Who should attend? PV System Integrators, Engineers, Installers, and Field Service Technicians
Solar Energy International's Online Continuing Education Program
On-demand online webinars: We have a variety of 2-3 hour on-demand webinars that you can participate in and at $49/webinar, it's an inexpensive and quick way to meet your educational requirements, especially if you just have a few hours remaining. We offer NABCEP CEs for PV and Solar Thermal. Register online: http://www.solarenergy.org/continuing-education-begin-today.
SEI's Continuing Education Hands-on training
Our new PV351 Lab is the workshop that we, as PV technicians, are excited about because it's a chance for us to get nerdy with expensive testing tools. PV351L: Photovoltaic Systems - Tools and Techniques for Operation and Maintenance Lab Week (Grid-Direct) is an intensive, advanced training designed for solar professionals already working in the PV industry who want to take their skills to the next level. This class is great for NABCEP Continuing Education hours. Register online here: http://www.solarenergy.org/workshop/solar-training-solar-electric-lab-week-battery-based?wid=1609
Don't wait until the very last minute to get your NABCEP CEs. Solar Energy International is here to help.
Call us at (970) 963-8855 with questions and to enroll in SEI workshops and courses or visit http://www.solarenergy.org to learn more and register online. If you are registering for an in-person workshop or online course of five days or more, that starts 30 days out or longer from today, please call (970) 963-8855 to register and receive $50 off the tuition of the course or workshop. Be sure to mention you are calling in for the Early Bird Incentive!
Featured Product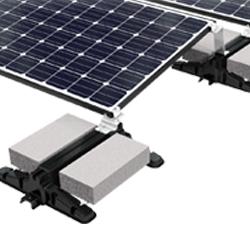 The Power Rail™ Commercial Mounting System is designed with the professional PV solar installer in mind. Both the XD/UD and LD/MD rails feature single tool assembly with the revolutionary patented RAD™ Lock-in-Place bolt for fast and secure module clamping. The high strength marine-grade aluminum rails include an integral wiring channel for securing cables and providing a professional finish.