"Best for the World" Businesses Score 50% Higher Than Nearly 2,000 Other Sustainable Businesses in Most Comprehensive Assessment of Overall Corporate Impact.
MORRISVILLE, NC - Southern Energy Management (SEM) has been recognized as "Best for the World" in a list of businesses creating the most overall positive social and environmental impact. SEM and the other "Best for the World" businesses earned a score in the top 10% of all Certified B Corporations and, on average, 50% higher than the average score of nearly 2,000 other sustainable businesses that have completed the B Impact Assessment.

Governed by the nonprofit B Lab, the B Impact Assessment is the most rigorous, comprehensive, and comparable independent assessment of overall corporate impact and shows the relative value businesses create for society. It compares nearly 200 individual metrics of corporate impact on workers, consumers, suppliers, community and the environment.
"Southern Energy Management is a leader in the global movement to redefine success in business," said Jay Coen Gilbert, co founder of B Lab, the organization that certifies B Corporations. "SEM is among the best in the world at being the best for the world."
Southern Energy Management has two primary lines of business: installing solar projects of all sizes and helping customers with energy efficiency and green building strategies. Based in North Carolina, SEM works with homeowners, builders, businesses, developers, utilities, governments and military clients throughout the United States.
"SEM was founded with a two-part mission to help reduce emissions that lead to climate change and to build a sustainable triple bottom line company that values people, planet and profit," explained SEM co-founder and president Maria Kingery. "To be recognized as a leader for the effort we've made is incredibly humbling and a source of pride for our entire team."
The "Best for the World" list appears in the 2012 B Corp Annual Report published today by B Lab.
The other "Best for the World" businesses include Better World Books, Global Green Energy Corp, Green Building Services, Larry's Beans, Method Home Products, Moving Forward Education, Namaste Solar, Next Street, Partnership Capital Growth, Piedmont Biofuels, PREM Group, Re:Vision Architecture, RecycleBank, South Mountain Company, SQA Pharmacy Services, The Redwoods Group, and Virginia Community Capital.
Learn more about how SEM creates positive social and environmental impact at bcorporation.net/southernenergy.
Media Contacts:
Chris Cowperthwaite, SEM: chris@southern-energy.com or (919) 836-0330
Jay Coen Gilbert, B Lab: jay@bcorporation.net or (610) 296-8283
About Southern Energy Management
Southern Energy Management is a North Carolina-based sustainable energy company offering energy efficiency, green building and turn-key solar services for homeowners, builders, companies, government and military clients across the country. A certified B Corp, SEM's mission is to have a measurable impact on reducing greenhouse gas emissions that contribute to climate change, and to build a sustainable triple-bottom-line company. SEM was founded in a living room in Raleigh in 2001, and now employs a team of more than 100 sustainable energy professionals. SEM is consistently recognized as an industry leader both locally and nationally, and is among a small handful of companies in the U.S. to earn the 2012 national ENERGY STAR Sustained Excellence Award for being named Partner of the Year six consecutive times. SEM also received the 2011 City of Raleigh Environmental Stewardship Award and the 2010 Green Jobs Award from SJF Institute & Green For All. For more information, visit www.southern-energy.com.
About B Lab
B Lab is a nonprofit organization dedicated to building a new sector of the economy that uses the power of business to solve social and environmental problems. B Lab drives systemic change through three interrelated initiatives: 1) building a community of Certified B Corporations to make it easier for all of us to tell the difference between "good companies" and just good marketing; 2) driving capital to impact investments through use of GIIRS Ratings and Analytics; and 3) advancing supportive public policies to accelerate growth of social entrepreneurship and impact investing. To earn certification, B Corps must achieve a verified minimum score (80 out of 200) on the B Impact Assessment and amend their bylaws to legally require their directors to consider the interests of stakeholders, not just shareholders, when making decisions. For more information, check www.bcorporation.net.
Featured Product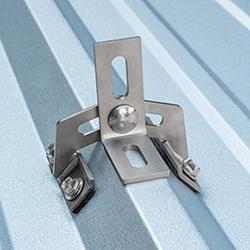 QuickBOLT Low Profile QuickBOLT with Microflashing™ is the industry's affordable, UL Certified Asphalt Shingle mounting system. The Microflashing™ is compressed by the collar on the bolt to create a water-tight seal. With an installation time of less than one minute, the Low Profile QuickBOLT allows installers to complete more jobs.