HNU ENERGY worked closely with King's Cathedral to create a long-term power purchase agreement that allows the organization to take full advantage of available incentives that lower the net cost of the system and maximize savings on electricity over 20 years.
FOR IMMEDIATE RELEASE MARCH 12, 2012

HNU ENERGY BRINGS SOLAR PV TO MAUI'S KING'S CATHEDRAL
MAUI'S TECH POWERHOUSE HELPS CHURCH SAVE $2 MILLION
WAILUKU, MAUI, HAWAII: Award-winning HNU ENERGY has installed a modern solar photovoltaic (PV) system at King's Cathedral in Kahului, Maui. Thanks to HNU ENERGY, 60% of all the energy consumed at King's Cathedral now comes from a clean, safe, renewable energy system incorporating highly advanced technology.
"Our electric bill is over $20,000 a month," said Dr. James Marocco, Senior Pastor. "Initially, we are paying for solar power, so current monthly savings are minimal. However, we will save approximately $12,000 a month when the system is donated to the church in seven years. This $2 million saved over the remaining life of the system will help King's Cathedral and Chapels fulfill their mission in the communities we serve."
"Our 236-kilowatt installation at the King's Cathedral is state of the art," said Dan O'Connell, CEO of HNU ENERGY. "The 1,050 photovoltaic panels powering this system were manufactured by SunPower, the global leader in delivering the highest efficiency, highest reliability solar panels available."
Centrally located at 777 Mokulele Highway, King's Cathedral ministers to over 3,000 people at its five weekly services, plus another 2,000 people in chapels throughout the state. The church's 72,000 square foot building incorporates its Ka'ahumanu Hou Christian School, Noah's Ark Preschool, numerous Youth and Children's events, and major annual conferences attended by people from all over the world.
HNU ENERGY worked closely with King's Cathedral to create a long-term power purchase agreement that allows the organization to take full advantage of available incentives that lower the net cost of the system and maximize savings on electricity over 20 years.
This is the third project, totaling nearly 0.5 megawatts, where HNU ENERGY has combined its custom, patent pending "Nu-Mount" racking system with SunPower's high efficiency solar panel technology. The new racking system is simple, fast, waterproof, and ties directly into the structural steel supporting the metal roof. Partnering together to reduce costs through superior technology, SunPower and HNU ENERGY are industry-leading pioneers in proven, reliable renewable energy solutions.
"SunPower guarantees the performance of its high efficiency panels, ensuring that customers can meet their financial goals and better serve their communities," said Howard Wenger, SunPower president, regions. "SunPower dealers are selected for their high standards of customer service and quality workmanship. We commend HNU ENERGY for exceeding expectations on the delivery of this important installation for Kings Cathedral."
Taking advantage of the large roof layout, the HNU ENERGY team designed a panel array to incorporate the form of a cross. With the planned addition of HNU's own high efficient LED tape lighting system, King's Cathedral's new renewable energy system will become a day and night landmark for all aircraft approaching Kahului Airport – and even will be visible from the international space station!
"HNU's team managed the transition to PV in a professional, courteous, and cooperative manner. With their efficient planning, we kept operational down time to an absolute minimum," said Minister Glen FooSum, Facilities Director.
One of the fastest growing small businesses in the state, HNU ENERGY was Maui County's winner of the statewide APEC 2011 Hawaii Business Innovation Showcase Award and is ranked as one of the top photovoltaic contractors in Hawaii by Pacific Business News.
HNU ENERGY's unique organization as a vertically integrated research, design, fabrication, testing, and marketing facility enables it to nurture technological innovations in house, from concept to finished product. Research breakthroughs by HNU ENERGY have lead to pioneering innovations from the highest quality LED lighting products, to concentrated photovoltaic panels, to utility-scale storage systems based on Lithium battery chemistry, the highest energy density storage available.
One of the most widely licensed photovoltaic contractors in Hawaii and an award-winning leader in solar energy technology, HNU ENERGY specializes in complex, cutting edge, renewable energy systems powered by custom design and proprietary engineering. Its team of highly skilled engineers, researchers, and technicians, many of whom hold advanced professional degrees and have authored patents, draw upon decades of experience and accumulated wisdom in renewable energy and related fields.
FOR FURTHER INFORMATION CONTACT:
Monica Kelsey
HNU ENERGY
1765 Wili Pa Loop
Wailuku, HI 96793
808-244-7844
info@hnuenergy.com
Featured Product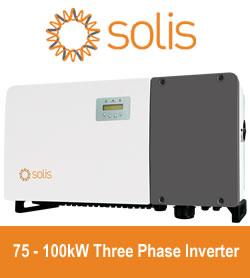 Solis75kW - 100kW series high-power string inverters are widely used in industrial and commercial rooftops. Solis's new three-phase string inverter is the first choice for industrial and commercial photovoltaics. 75-100kW three phase series string inverter have Maximum 28 strings input, support "Y" type connection in DC side. Maximum string input current 13A, support bifacial modules access.Supports anti-PID function to improve system efficiency.