Construction on the project, which is expected to begin this month, will create an estimated 200 jobs. First Solar expects to complete Avra Valley by the end of 2012.
PRINCETON, N.J. & TEMPE, Ariz.--NRG Energy, Inc. (NYSE: NRG) and First Solar, Inc. (NASDAQ: FSLR) today announced an agreement for First Solar to construct NRG's 26 megawatt (AC) Avra Valley solar project near Tucson, Ariz. Electricity from the Avra Valley solar project will be sold to Tucson Electric Power under a 20-year power purchase agreement.

The project will utilize First Solar's advanced thin-film photovoltaic technology, mounted on the company's single-axis tracker system, which rotates the solar modules to follow the sun throughout the day. The tracker system extends the peak energy production period, providing more electricity in the afternoon, when energy demand is greatest.
"NRG and First Solar have built a very strong working relationship, starting with our first 21 megawatt project in Blythe, California, to our most recently completed 20 megawatt Roadrunner solar generating station in New Mexico," said James Kelly, Director of Development for NRG Solar. "We look forward to working with First Solar on the Avra Valley project that, when completed, will help Arizona meet its renewable energy goals."
Construction on the project, which is expected to begin this month, will create an estimated 200 jobs. First Solar expects to complete Avra Valley by the end of 2012.
"We are proud to once again work with NRG as they add to their renewable energy portfolio and create clean energy for Arizona," said Jim Lamon, First Solar Senior Vice President for EPC and Operation and Maintenance. "We're excited to construct this utility-scale project using our proprietary tracker system, which maximizes the energy output of a solar facility."
About First Solar, Inc.
First Solar manufactures solar modules with an advanced semiconductor technology, and is a premier provider of comprehensive photovoltaic (PV) system solutions. The company is delivering an economically viable alternative to fossil-fuel generation today. From raw material sourcing through end-of-life collection and recycling, First Solar is focused on creating value-driven renewable energy solutions that protect and enhance the environment. For more information about First Solar, please visit www.firstsolar.com.
For First Solar Investors
This release contains forward-looking statements which are made pursuant to the safe harbor provisions of Section 21E of the Securities Exchange Act of 1934. The forward-looking statements in this release do not constitute guarantees of future performance. Those statements involve a number of factors that could cause actual results to differ materially, including risks associated with the company's business involving the company's products, their development and distribution, economic and competitive factors and the company's key strategic relationships and other risks detailed in the company's filings with the Securities and Exchange Commission. First Solar assumes no obligation to update any forward-looking information contained in this press release or with respect to the announcements described herein.
About NRG
NRG is at the forefront of changing how people think about and use energy. A Fortune 500 company, NRG is a pioneer in developing cleaner and smarter energy choices for our customers: whether as one of the largest solar power developers in the country, or by building the first privately funded electric vehicle charging infrastructure or by giving customers the latest smart energy solutions to better manage their energy use. Our diverse power generating facilities can support more than 20 million homes and our retail electricity providers – Reliant, Green Mountain Energy Company and Energy Plus – serve more than two million customers. More information is available at www.nrgenergy.com.
Featured Product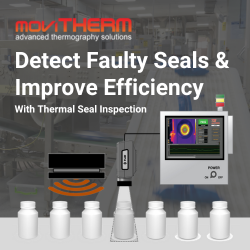 MoviTHERM's Thermal Seal Inspection (TSI) solution provides precise and reliable detection of defects in a variety of packaging types, including pouches, bags, blister packs, bottle caps, and more. By detecting defects in your packages, the TSI solution helps increase efficiency in your production line and ensures top-quality packaging is delivered to your customers every time. With state-of-the-art technology and an experienced team, MoviTHERM is dedicated to delivering accurate inspection solutions and peace of mind to its clients. Contact MoviTHERM today to learn more about their thermal seal inspection solution.