The new center will focus on state of the art research on offshore wind turbines to further enhance energy output and lower the cost of electricity
RALEIGH, N.C.--China Ming Yang Wind Power Group Limited (NYSE:MY), a leading wind turbine manufacturer in China, opened its North American research and development center on Centennial Campus, N.C. State University's research park and technology campus in Raleigh, North Carolina.

The new center will focus on state of the art research on offshore wind turbines to further enhance energy output and lower the cost of electricity. This research will be demonstrated in Ming Yang's newly developed wind turbine generator (WTG). Dr. Shu Ching Quek, President of Ming Yang Wind Power USA Inc., will lead the center.
"We welcome Ming Yang Wind Power to North Carolina. As the first industrial large-scale wind turbine R&D facility in the state, we look forward to a successful partnership in harnessing North Carolina's wind power potential," said Gov. Bev Perdue.
This announcement is in line with the recently released report from the Scientific Panel on Offshore Energy that recommended engaging wind-energy companies to promote opportunities for offshore wind development and making North Carolina an east coast hub for the industry.
"We are very excited to set up a new R&D center on Centennial Campus in Raleigh to focus on cutting-edge technology research for our new wind turbines," said Chuanwei Zhang, Chairman and Chief Executive Officer of Ming Yang. "The R&D center is Ming Yang's first step into the United States. "
Ming Yang officials say they chose Centennial Campus as the location of its new R&D center in order to leverage the multi-disciplinary talent pool available in the area and to take advantage of the company's close proximity to NC State's College of Engineering, also located on Centennial.
The company's initial partnership with the university will flow through the School's Department of Mechanical and Aerospace Engineering, and it will revolve around research in wind turbine aerodynamics, aero-acoustics and composite structures.
NC State also expects to work with the company on research in structural health monitoring, gear boxes and mechanical design.
"This is an important collaboration for us," said Terri Lomax, vice chancellor of research, innovation and economic development. "Centennial Campus is quickly becoming a hub of activity associated with alternative energy technologies, smart grid research and distributed energy concerns. We're looking forward to working with Ming Yang on a number of different projects."
Much of the interest surrounding Centennial Campus and alternative energy technologies revolves around the FREEDM Systems Center, the only National Science Foundation-funded center dedicated to the successful integration of the traditional energy grid with other energy sources, such as wind and solar. The FREEDM Center is located on Centennial Campus.
The North Carolina Solar Center, which is housed at NC State, played a key role in helping attract Ming Yang to NC State. The Solar Center serves as a resource for innovative, clean energy technologies through demonstration, technical assistance, outreach and training throughout the state. The Center also has a working wind turbine on its premises.
About Centennial Campus
Centennial Campus is a research park and technology campus owned and operated by North Carolina State University. With more than 60 corporate, governmental and nonprofit partners and nearly 10,000 employees, faculty, and students on its campus, Centennial is one of the premier research parks in the U.S. In addition to being the global headquarters to a major software company, the 1,227-acre park is also home to three of the university's top undergraduate and graduate programs in engineering, textiles and veterinary medicine. http://centennial.ncsu.edu
Featured Product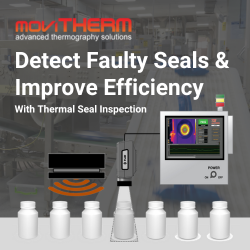 MoviTHERM's Thermal Seal Inspection (TSI) solution provides precise and reliable detection of defects in a variety of packaging types, including pouches, bags, blister packs, bottle caps, and more. By detecting defects in your packages, the TSI solution helps increase efficiency in your production line and ensures top-quality packaging is delivered to your customers every time. With state-of-the-art technology and an experienced team, MoviTHERM is dedicated to delivering accurate inspection solutions and peace of mind to its clients. Contact MoviTHERM today to learn more about their thermal seal inspection solution.