Experts Will Present New Innovation and Technology Advancements
LOS ANGELES--More than 100 exhibitors, 200 presenters, and approximately 3,000 electric drive industry leaders, government representatives and energy officials will participate in the 26th International Electric Vehicle Symposium in Los Angeles at the L.A. Convention Center on May 6 - 9, 2012.

"EVS26 is the largest global event showcasing electric drive technologies and we will hear from the preeminent experts on trends in the industry and its continuing growth," said Brian Wynne, president of the Electric Drive Transportation Association (EDTA), the U.S. association dedicated to advancing electric drive technologies and hosting organization for the symposium. "This event will provide attendees a complete look at the rapid progress we are making in vehicles, batteries and charging, and highlight the latest in public policies, best practices and consumer choice."
Plenary Speakers
Wynne and Ted Craver, chairman of Edison International and EDTA, will kick off the symposium by welcoming attendees during the first plenary session on May 7. The two will share their outlook on the progress and future prospects of the international electric drive industry, plus the benefits of adopting these technologies. The plenary sessions involve a robust discussion of the global growth and benefits of electric vehicles (EVs) with prominent industry executives, including:
*Ted Craver, chairman, president and CEO of Edison International;
*Bob Lutz, former vice chairman of GM;
*Bob Carter, group vice president and general manager at Toyota;
*Daryl Dulaney, president and CEO of Siemens Industry; and
M.H. Kim, vice president of battery research at LG Chem.
Education Sessions and Dialogues with Experts
About 175 education sessions will cover topics in five tracks. Themes of some of the sessions include:
*Expanding the EV market in Los Angeles;
*Reducing range anxiety;
*Simplifying charging of electric vehicles;
*Building a smart grid for EVs;
*Energy savings and cost projections for EVs; and
*EV cities of the future.
Exhibitors and Ride, Drive, & Charge
More than 100 global companies will display electric vehicle technologies on the show floor, including: Coda, Coulomb Technologies, Dow Energy Materials, GM, Mitsubishi, Nissan, Southern California Edison, and Toyota.
In addition, a "Ride, Drive, & Charge" event will be held for attendees to gain hands-on experience with electric vehicles. This event is open to the public on May 6 - 8 from 9:00 a.m. to 5:00 p.m. Coda, GM, Honda, Mitsubishi, Nissan, Toyota and others will provide vehicles for test drives. Several companies will also provide charging stations, including: AeroVironment, Evatran, and Qualcomm Halo.
EDTA presents the symposium under the auspices of the World Electric Vehicle Association and in partnership with AVERE (the European Association for Battery, Hybrid and Fuel Cell Electric Vehicles) and the Electric Vehicle Association of Asia Pacific (EVAAP).
Please visit www.EVS26.org to register for EVS26.
About EDTA: The Electric Drive Transportation Association (EDTA) is the preeminent trade association representing battery, hybrid, plug-in hybrid and fuel cell electric drive technologies and infrastructure. EDTA conducts public policy advocacy, education, industry networking, and international conferences. EDTA's membership includes vehicle and equipment manufacturers, energy companies, technology developers, component suppliers, government agencies and others. For more information about EDTA and its members, visit ElectricDrive.org. For information about owning and operating electric vehicles, please visit GoElectricDrive.com.
Featured Product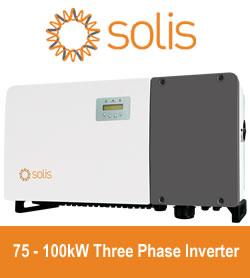 Solis75kW - 100kW series high-power string inverters are widely used in industrial and commercial rooftops. Solis's new three-phase string inverter is the first choice for industrial and commercial photovoltaics. 75-100kW three phase series string inverter have Maximum 28 strings input, support "Y" type connection in DC side. Maximum string input current 13A, support bifacial modules access.Supports anti-PID function to improve system efficiency.