Global Companies Recognized as Leaders in the Clean Energy Revolution
New York, March 19 – Bloomberg New Energy Finance, the world's leading provider of news, data and analysis on clean energy, water, power and the carbon markets, today announced its selection of 2012 New Energy Pioneers at the fifth annual Bloomberg New Energy Finance Summit in New York City.

The Bloomberg New Energy Finance Pioneers program identifies companies from around the world that are changing the energy landscape forever. An independent panel of industry experts from banking, academia, corporations, utilities and technology providers chose the honorees by assessing them against three criteria: potential scale, innovation and momentum.
This year's winners represent a broad range of industries including bioenergy, energy storage, electric vehicles, smart grid, solar and water. Each of the New Energy Pioneers have innovative, proven technologies, robust business models, the ability to demonstrate traction and momentum in their activities, and the potential for global scale. By rewarding game-changing innovators, Bloomberg New Energy Finance hopes to highlight the speed of change in the sectors it serves, which play such an important role in the shift towards a low-carbon economy.
"It has been a tough year for the clean energy sector, with severe pressure on the profit margins of manufacturers, a sharp fall in share prices, some notable bankruptcies, cuts in European government subsidy support, and a reduction in the availability of bank finance," said Michael Liebreich, Summit Chairman and Head of Bloomberg New Energy Finance. "Despite this, the quality and volume of applicants we received for the 2012 Pioneers program was higher than ever – a testimony to the strength of the forces driving the sector and to the sort of high-quality entrepreneurs which it has been attracting over the past few years. We congratulate this year's winners and look forward to tracking their progress."
The 2012 New Energy Pioneers are:
• Clean Power Finance runs an online marketplace allowing investors and lenders to participate in residential solar system financing, and also has proprietary solar siting and design software.
• Ecotality is an electric vehicle charging technology developer and maker of the 'Blink Network' of residential and commercial EV charge stations for safe, efficient charging at low utility rates.
• Emefcy's electrogenic bio-reactor (EBR) technology changes the economics of wastewater treatment by generating instead of consuming energy. It uses electrogenic bacteria to produce electricity directly from wastewater at the same time as treating it.
• Lanzatech's proprietary microbe technology converts waste gases to fuels and chemicals, from any source of carbon monoxide with no impact on the food value chain.
• Maxwell Technologies is a developer and manufacturer of ultracapacitors–an energy storage technology used to optimize energy efficiency, performance, reliability and life cycle of a variety of systems such as vehicles and the grid system.
• Silver Spring Networks is a developer of utility networking technologies and software that allow smart grid endpoints such as smart meters to be connected in a cost-effective, secure and reliable manner.
• Smarter Grid Solutions has developed grid management software to help utility grid operators maximize the use of existing assets.
• Tendril Networks is the developer of connected home platforms that enable smart home applications, such as customer engagement, energy monitoring and management, and demand response. The software platform interacts with hardware devices in the home, such as displays, smart thermostats, smart appliances and EV chargers.
• Va-Q-Tec produces high-performance vacuum-based insulation materials for a wide range of industrial and consumer applications, potentially providing up to ten times better insulation than conventional materials.
• Xtreme Power's dynamic resource is an advanced lead-based energy storage and power management system. To be used with large-scale renewables or in the grid system, it makes power grid systems more responsive and flexible where supply is increasingly unpredictable.
The Bloomberg New Energy Finance Pioneers program is sponsored by Ernst & Young.
ABOUT BLOOMBERG NEW ENERGY FINANCE
Bloomberg New Energy Finance (BNEF) is the world's leading independent provider of news, data, research and analysis to decision makers in renewable energy, energy smart technologies, carbon markets, carbon capture and storage, power, water and nuclear power. Bloomberg New Energy Finance has staff of more than 200, based in London, Washington D.C., New York, San Francisco, Tokyo, Beijing, New Delhi, Singapore, Hong Kong, Sydney, Cape Town, São Paulo and Zurich.
Bloomberg New Energy Finance serves leading investors, corporates and governments around the world. Its Insight Services provide deep market analysis on wind, solar, bioenergy, geothermal, carbon capture and storage, smart grid, energy efficiency, and nuclear power. The group also offers Insight Services for each of the major emerging carbon markets: European, Global Kyoto, Australia, and the U.S., where it covers the planned regional markets as well as potential federal initiatives and the voluntary carbon market. Bloomberg New Energy Finance's Industry Intelligence Service provides access to the world's most reliable and comprehensive database of investors and investments in clean energy and carbon. The News and Briefing Service is the leading global news service focusing on clean energy investment. The group also undertakes applied research on behalf of clients and runs senior level networking events.
New Energy Finance Limited was acquired by Bloomberg L.P. in December 2009, and its services and products are now owned and distributed by Bloomberg Finance L.P., except that Bloomberg L.P. and its subsidiaries (BLP) distribute these products in Argentina, Bermuda, China, India, Japan, and Korea. For more information on Bloomberg New Energy Finance: http://www.bnef.com
ABOUT BLOOMBERG
Bloomberg is the world's most trusted source of information for financial professionals and businesses. Bloomberg combines innovative technology with unmatched analytics, data, news, and display and distribution capabilities, to deliver critical information via the Bloomberg Professional service and multimedia platforms. Bloomberg's media properties span television, radio, digital and print, making up one of the world's largest news organizations with more than 2,300 news and multimedia professionals at 146 bureaus in 72 countries.
Featured Product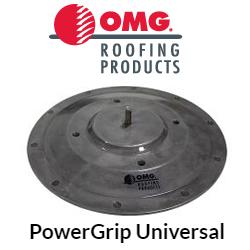 Eliminate Solar Rack Ballast and Reduce Rooftop Material Handling. PowerGripâ"¢ Universal (PGU) is a commercial roof mount system designed to secure solar racks and other equipment to any type of commercial roofing system. PGU provides a secure connection directly to the roof deck or structural members and is designed to reduce or eliminate ballast in solar racking systems, so there's less weight on the roof and less material handling. Made of heavy-duty cast aluminum, PGU units include a base ring which is secured through the roofing cover and into the structural roof deck, and a waterproof top plate.