Instant Connect(TM) Eliminates Panel-to-Panel Wiring and Racking, Reduces Installation Costs by 50%
CAMPBELL, Calif., March 19, 2012 -- Westinghouse Solar,
Inc. (Nasdaq:WEST), a designer and manufacturer of solar power systems,
today announced the release of Instant Connect, a new line of solar panels
that makes rooftop installations faster and easier than ever before.
A photo accompanying this release is available at
http://www.globenewswire.com/newsroom/prs/?pkgid=12069
Instant Connect panels continue Westinghouse Solar's heritage of innovation,
including the industry's first solar panel to integrate racking directly
into the solar panel itself (2007), and the industry's first UL-approved AC
solar panel (2009). Instant Connect extends Westinghouse Solar's technology
leadership with the first plug-and-play solar panel that completely
eliminates cumbersome panel-to-panel wiring for both residential AC systems
and commercial DC systems.
The key to the Instant Connect innovation is a set of UL-approved electrical
connectors that are integrated directly into the sides of each solar panel
-- allowing the solar panels to automatically plug together when they are
mounted on the roof (U.S. Patent #7,406,800, as well as patents in Mexico,
Australia, Korea, India, and Japan). The frames of the solar panels -- and
splices used to connect the solar panels together -- provide precision
alignment of the electrical connectors, completely eliminating the need to
manually wire panels or struggle with custom cabling on the roof.
The Problem with Ordinary Solar Panels
In order to install an ordinary rooftop solar panel system, hundreds of
individual parts must be sourced, carried to the roof and manually
assembled. Some of these parts include long sections of aluminum or steel
racking, clips to attach the panels to the racks, electrical conduit to
isolate the high voltage DC wires, inverters, disconnects, heavy-duty copper
grounding wire and lugs, wiring clips, zip ties and a virtual blizzard of
nuts and bolts to hold everything together. It is quite challenging to
accomplish all of this manual assembly work while holding on to a steeply
sloped roof twenty feet in the air on a hot day. Fundamentally, the problem
is that manufacturers never considered a rooftop solar installation as a
complete system. Instead, multiple manufacturers have historically supplied
their own components to installers who, until now, have had no other choice
but to assemble all of these parts themselves.
The Westinghouse Solar Instant Connect Solution
Ten years ago the designers of the Westinghouse Solar Instant Connect system
imagined a rooftop installation in which all of these components would be
built into the solar panel itself. The solar panels would have integrated
racking -- so that the panels could be attached directly to the rooftop
without an underlying sub structure. The solar panels would have grounding
built into the frames, and the connecting splices would provide a grounding
path between panels. Finally, the wiring necessary for the panels would be
accomplished with special connectors on the sides of the panels. These
concepts were patented, and successful versions of these products were
introduced to the market starting in 2007.
Rooftop solar panels are no longer expensive or difficult to install.
One of the key benefits of Instant Connect panels is that electricians, HVAC
contractors and skilled Do-It-Yourselfers (DIY) can install a system.
Moreover, they can start small -- with just one or two panels
-- and easily add onto the system. Large home improvement retailers, like
Lowe's Home Improvement Stores, have built their business around serving the
needs of contractors and DIY homeowners -- and now sell Westinghouse Solar
Power Systems to meet this market demand.
"There continues to be tremendous pressure to reduce the fully-installed
costs of rooftop solar," said Barry Cinnamon, CEO of Westinghouse Solar.
"Manufacturers of solar panels are bending over backwards to squeeze an
extra 0.1% efficiency out of their panels, or to reduce their costs by
$0.01/watt. But now that high quality solar panels are selling for less than
$1/watt, the biggest remaining cost savings opportunity is on the
installation itself. With Instant Connect, Westinghouse Solar can reduce
direct and indirect installation costs by over $0.25/watt, which has a much
greater economic impact on customers than incremental efficiency or cell
cost improvements."
Westinghouse Solar Instant Connect solar panels are available for immediate
shipment for customers in North America.
About Westinghouse Solar:
Westinghouse Solar is a designer and manufacturer of solar power systems. In
2007, Westinghouse Solar pioneered the concept of integrating the racking,
wiring and grounding directly into the solar panel. This revolutionary solar
panel, originally branded "Andalay", quickly won industry acclaim. In 2009,
the company again broke new ground with the first integrated AC solar panel,
reducing the number of components for a rooftop solar installation by
approximately 80 percent and lowering labor costs by approximately 50
percent. This first AC panel, which won the 2009 Popular Mechanics
Breakthrough Award, has become the industry's most widely installed AC solar
panel. Instant Connect solar panels, available in both AC and DC
configurations, are the only panels with integrated racking, grounding and
wiring.
Award-winning Westinghouse Solar Power Systems provide the best combination
of safety, performance and reliability, while backed by the proven quality
of the Westinghouse name. For more information on Westinghouse Solar, visit
www.westinghousesolar.com.
Featured Product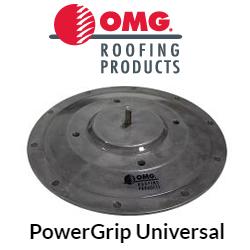 Eliminate Solar Rack Ballast and Reduce Rooftop Material Handling. PowerGrip™ Universal (PGU) is a commercial roof mount system designed to secure solar racks and other equipment to any type of commercial roofing system. PGU provides a secure connection directly to the roof deck or structural members and is designed to reduce or eliminate ballast in solar racking systems, so there's less weight on the roof and less material handling. Made of heavy-duty cast aluminum, PGU units include a base ring which is secured through the roofing cover and into the structural roof deck, and a waterproof top plate.