The 2011 financial year saw an unprecedented level of price erosion in the photovoltaic industry
Oldenburg, Prenzlau, 22 March 2012. aleo solar AG today published its 2011 annual report, which confirms the preliminary figures announced earlier. Revenue decreased by 16.6% to EUR 461.8 million (2010: EUR 553.5 million). The 2011 financial year closed with earnings before interest and taxes (EBIT) of EUR -30.5 million (2010: EUR 43.0 million). The EBIT margin dropped to -6.6 percent (2010: 7.8 percent) and earnings per share fell to EUR -2.47 (2010: EUR 2.41).

"The 2011 financial year saw an unprecedented level of price erosion in the photovoltaic industry," said York zu Putlitz, CEO and CFO of aleo solar AG. "Triggered by a global oversupply, prices for cells and modules fell massively. We, too, were forced to reduce our selling prices by over a third in the course of the year. This put considerable pressure on our revenue and margins and prevented us from achieving the targets we had originally set for ourselves." Earnings were also depressed by an extraordinary settlement of cell supply contracts from earlier years.
In 2011 aleo solar AG again increased its module output in terms of production and sales volume. Production surged to 303 megawatts (MW) from 267 MW in the previous year, while the sales volume also rose to 297 MW (2010: 255 MW). aleo solar AG generated almost half of its revenue (EUR 223.3 million) in international markets. It added the United Kingdom, an important new market, to its footprint, which already included Italy, France, Greece and Belgium, countries in which aleo solar has been successful for many years. Outside Europe, sales were particularly strong in the United States, Australia, Mexico and Israel.
In 2012 aleo solar AG plans to increase sales again by fully utilising its production capacity. Nevertheless, given the intense competition on the photovoltaic market, earnings are expected to remain negative in 2012. aleo solar's revenue target for 2012 is at least EUR 440 million.
Featured Product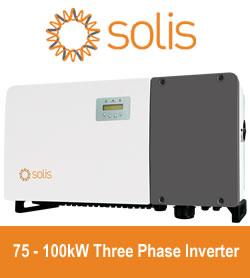 Solis75kW - 100kW series high-power string inverters are widely used in industrial and commercial rooftops. Solis's new three-phase string inverter is the first choice for industrial and commercial photovoltaics. 75-100kW three phase series string inverter have Maximum 28 strings input, support "Y" type connection in DC side. Maximum string input current 13A, support bifacial modules access.Supports anti-PID function to improve system efficiency.