-Second Annual GEA Honors-
Washington, D.C. (March 21, 2012) – Today the Geothermal Energy Association (GEA) announced a call for entries for the second annual GEA Honors.

"After the success of last year's inaugural awards program, we are thrilled to have the opportunity to again recognize the inspiring innovators and developers in the geothermal industry over the past year," said Geothermal Energy Association Executive Director Karl Gawell. "Honorees will exemplify the great accomplishments and potential for the geothermal energy industry in the United States and abroad."
Nominations are currently being accepted for the awards program. An application may be submitted for more than one award category. This year, awards will be given to GEA member companies in the following categories:
*Technological Advancement: Awarded to an individual or company that has developed a new, innovative or pioneering technology to further geothermal development.
*Environmental Stewardship: Awarded to an indididual or company that has fostered outstanding environmental stewardship through the use of geothermal systems. This award will be presented in conjunction with the Environmental and Energy Study Institute (EESI).
*Economic Development: Awarded to an individual or company that has made a substantial contribution to the development of local, regional or national markets through the development of geothermal systems.
Special Recognition: Additionally, nominations will be accepted for special recognition of individuals and companies for outstanding achievement in the geothermal industry. These awards are open to GEA members, as well as non-member companies and individuals.
The GEA Honors program deadline for nominations is May 25. Finalists will be named in June. Winners will be announced at an awards dinner at the GEA National Geothermal Summit 2012 on August 7 in Sacramento, Calif. For more information or to submit a nomination, please visit http://geo-energy.org/GEAHonors.aspx.
At last year's Summit in Reno, Nev., award winners included TAS Energy Inc. (Technological Advancement) for its development of a new high-efficiency binary expander; Ormat Technologies, Inc. (Economic Development) for significant economic contributions to the state of Nevada by creating quality jobs, establishing a strong presence for renewables, paying millions of dollars in taxes and supporting quality programs; and EnergySource LLC Hudson Ranch I Project (Environmental Stewardship) for dramatically reducing CO2 emissions and protection of biological resources.
About the Geothermal Energy Association:
The Geothermal Energy Association (GEA) is a trade association comprised of U.S. companies who support the expanded use of geothermal energy and are developing geothermal Resources worldwide for electrical power generation and direct-heat uses. GEA advocates for public policies that will promote the development and utilization of geothermal Resources, provides a forum for the industry to discuss issues and problems, encourages research and development to improve geothermal technologies, presents industry views to governmental organizations, provides assistance for the export of geothermal goods and services, compiles statistical data about the geothermal industry, and conducts education and outreach projects. For more information, please visit http://www.geo-energy.org/. Check out GEA's YouTube Channel. Follow GEA on Twitter. Become a fan on Facebook.
Featured Product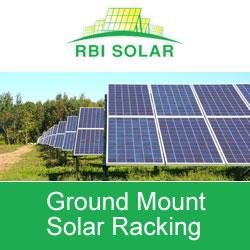 RBI ground mount solar systems are designed and engineered for each customer's site specific conditions to minimize the field installation labor and require no field welding, drilling, or other on-site fabrication. Our meticulous project planning and precise execution combine to provide you with solar racking solutions that are tailored to the unique conditions of your location. RBI provides a wide range of PV mounting systems in various sizes to offer freedom and flexibility to support every type of PV module. RBI Solar ground mount system is a perfect utility scale solar racking solution with two models classified by Intertek to UL subject 2703. ETL Classified systems include proven models GM-I and GM-T which have been used on many large commercial and utility scale solar racking projects across the country.