System supplier's Spanish solar parks on average exceed forecast yield by 5%.
Hamburg / Madrid, 20 March 2012 – Just a few weeks after the grid connection of a 5.3 megawatt Conergy solar park in Murcia, the Hamburg-based system supplier is now announcing another success story in the neighbouring region of Andalucía. Conergy has sold its 2.3 megawatt grid-connected solar park to Ellomay Capital Ltd. This solar power plant, located close to the city of Córdoba, is exclusively equipped with Conergy components from its own manufacturing facilities.

"Nearly 2,800 hours of sunshine a year and irradiation levels in southern Spain of around 2,000 kilowatt hours per square metre make this is an extremely attractive location for solar power plants", says Luis Jimenez Gutierrez, Managing Director of Conergy Spain. "And thanks to the careful design process and our perfectly-matched components, our solar parks on average exceed forecast yield by 5%. Both of these factors make them an interesting proposition for investors".
The region's long hours of sunshine make it attractive for investment and tourism alike, and it is also well on the way to achieving grid parity – the point at which energy from solar power, without subsidies, is as cheap as power generated from finite fossil or nuclear energy sources. The Conergy solar park is another step down this path. On its 20-acre site – around four times the size of the famous Moorish "Mezquita de Córdoba" – more than 10,500 PowerPlus modules generate clean energy on over 13 miles of SolarLinea mounting systems. Each year, around 3.5 million kilowatt hours of solar power feeds 21 IPG 110 K central inverters in southern Spain's electricity grid. In this way, the Conergy power plant produces enough electricity to supply around 1,300 homes in Andalucía – or about three-quarters of the population of nearby Villafranca de Córdoba. At the same time, the solar park saves on the production of more than 1,700 tonnes of harmful CO2 emissions each year.
About Conergy
Conergy delivers solar energy systems from a single source. As a system supplier, Conergy produces all components for a solar installation and offers all services under one roof.
With its modules, inverters and mounting systems, the solar expert creates Conergy System Technology, which is efficient solar energy systems for private or commercial rooftops, as well as for multi-Megawatt Parks. Conergy System Services deliver a "Worry-Free Package" for Conergy solar installations – from "A" for architectural planning to "Y" for yield insurance and "Z" for zero trouble. Conergy's experts not only install on-site turn-key solar projects, but they also manage the planning and financing, project implementation, system monitoring, operation and on-going maintenance of the project for maximum performance. With this comprehensive technology and service package, Conergy offers yield insurance for its installations. Conergy System Sales brings Conergy premium products to nearly 40 countries. From "A" for Australia to "T" for Tunisia – the solar expert supports homeowners, installers, wholesalers and investors in their efforts to "go solar". With sales activities on five continents, Conergy has close relationships with all its customers. In 2010, more than half of Conergy's sales were generated outside of Germany.
Listed on the Frankfurt stock exchange, Conergy employs more than 1,500 people worldwide. Since Conergy's founding in 1998, it has produced and sold more than 1.6 GW of clean solar energy. Thus, in 2011 Conergy solar installations have generated almost as much power as a nuclear reactor.
Featured Product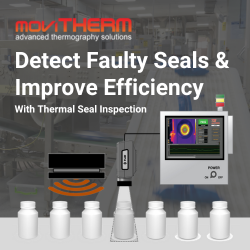 MoviTHERM's Thermal Seal Inspection (TSI) solution provides precise and reliable detection of defects in a variety of packaging types, including pouches, bags, blister packs, bottle caps, and more. By detecting defects in your packages, the TSI solution helps increase efficiency in your production line and ensures top-quality packaging is delivered to your customers every time. With state-of-the-art technology and an experienced team, MoviTHERM is dedicated to delivering accurate inspection solutions and peace of mind to its clients. Contact MoviTHERM today to learn more about their thermal seal inspection solution.