PASADENA, California, March 20, 2012 ó The Los Angeles area was hit with a windstorm last December. High winds left the region with power outages, uprooted trees, and property damage. Unfortunately, Pasadena home owner Rachel Clark's 11-year old PV system didn't make it through the storm, even though the system was rated to withstand higher wind speeds than the storm produced. Since most field failures occur at lower than advertised load ratings, an investigation was necessary to determine the exact cause of the failure. An analysis of the failure by Run on Sun, a Pasadena solar installer and integrator, and Unirac pointed to improper techniques the original installers used at the time of install some 11 years before.

Even though the original system was out of warranty, insurance would cover some of the wind damage. But Run on Sun Founder and CEO Jim Jenal wanted to make sure the replacement system would be better than ever. In his words, "Having figured out what went wrong with the old installation, it was time to make it right!"
Upon consultation with Unirac, the install team decided to use the new SolarMount (E)volution PV racking system in a fixed-leg tilt configuration. Jenal was very impressed with SolarMount (E)volution.
"It is easy to see why Unirac calls this SolarMount (E)volution because this product really has moved beyond what was available just a year ago," said Jenal. "With gear like this, we are confident these clamps will never allow a panel to separate from the rails.... We feel this is the safest system we have ever installed. This will be our new standard going forward."
Did you know SolarMount (E)volution has
a 20-year limited parts warranty
and has been ICC-ES evaluated?
Unirac has you covered now and in the future!
Featured Product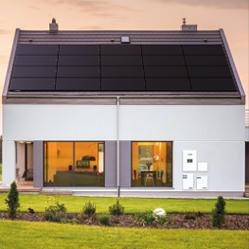 The Q.Home+ ESS HYB-G1 energy storage solution offers scalable storage capacity from 4.5 kWh up to 18.9 kWh and comes in a modular design for easy and fast installation. The system is offered in both DC-coupled and AC-coupled configurations and can connect up to 3 batteries in series using only one inverter and battery management system (BMS). The system includes an integrated backup power function for 100% of the rated inverter output to support critical loads in the event of power failure and offers remote monitoring using the QHOME+ web portal or QHOME+ ESS mobile app.