The streamlined design of its in-row cooling systems allow them to be placed closer to the heat load, enabling data center owners to better manage thermal requirements regardless of the size of their data center.
Date: March 20, 2012

RALEIGH, N.C. … Diversified industrial manufacturer Eaton Corporation today announced a cooperative agreement with STULZ Air Technology Systems, Inc., at the AFCOM Data Center World Conference in Las Vegas. Through this agreement, Eaton will expand its data center product portfolio by offering STULZ cooling technologies to its customers. Eaton's enclosure, containment, and power management systems, paired with in-row and perimeter cooling solutions from STULZ, can enhance energy efficiency and reduce operating expenses in even the most challenging data center environments.
"Eaton is committed to meeting the needs of our mission critical customers by offering state-of-the-art products and services that allow them to run safe, reliable and efficient data centers," said Ed Komoski, president, Power Quality Operations, Eaton. "Aligning with STULZ enables Eaton to offer pre-engineered, integrated solutions that address data center operators' most pressing power and cooling issues."
STULZ is a leading systems supplier in the field of air-conditioning technology for data centers. The streamlined design of its in-row cooling systems allow them to be placed closer to the heat load, enabling data center owners to better manage thermal requirements regardless of the size of their data center.
This agreement is intended to further expand Eaton's already robust portfolio of data center products that store, cool, power, manage and secure mission-critical data center technology, which includes uninterruptible power systems (UPSs), power distribution products, data center services, Power Xpert ® power management software, information technology (IT) rack systems and data center air containment solutions, as well as medium and low voltage switchgear.
"The combining of STULZ mission-critical energy products and Eaton's customizable data center containment systems provides an efficient, economical and intelligent cooling system for any data center," said Oliver Stulz, president, STULZ-ATS. "Identifying the right cooling architecture allows data center owners to effectively manage increasing thermal requirements."
During the AFCOM expo, Eaton (booth #401) and STULZ (booth #407) will showcase their data center portfolios and application experts will be available to discuss the latest strategies for deploying energy efficient thermal management and power management solutions in mission critical environments.
To learn more about Eaton's power quality products, visit www.powerquality.eaton.com. To learn more about STULZ, visit www.stulz-ats.com. For more information about AFCOM Data Center World, visit www.datacenterworld.com.
Eaton's electrical business is a global leader in power distribution, power quality, control and automation, power monitoring, and energy management products and services. Eaton is positioned, through its Cutler-Hammer®, Moeller®, Powerware®, Holec®, MEM®, and Santak® global electrical product series, to answer today's most critical electrical power management challenges.
Eaton Corporation is a diversified power management company with more than 100 years of experience providing energy-efficient solutions that help our customers effectively manage electrical, hydraulic and mechanical power. With 2011 sales of $16.0 billion, Eaton is a global technology leader in electrical components, systems and services for power quality, distribution and control; hydraulics components, systems and services for industrial and mobile equipment; aerospace fuel, hydraulic and pneumatic systems for commercial and military use; and truck and automotive drivetrain and powertrain systems for performance, fuel economy and safety. Eaton has approximately 73,000 employees and sells products to customers in more than 150 countries. For more information, visit www.eaton.com.
Featured Product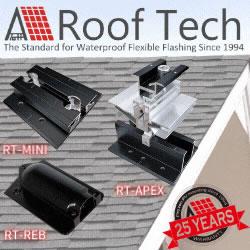 These ongoing webinars cover Roof Tech's background, product design (RT MINI and APEX), code and best practices. You will learn about a proven system that reduces installation time while keeping the integrity of the roofing system. This training will earn you one NABCEP Continuing Education Credit. The webinars are offered every Tuesday from 11 AM PDT to Noon during the months of April and May, 2020.