Renewable energy innovator to expand presence of Second Wind's technology in the UK wind energy market
Somerville, MA, March 27, 2012 – Second Wind, a leading provider of wind measurement technology, software and services, today announced an expanded relationship with Dulas, one of the UK's leading renewable energy services firms, designed to offer the UK's wind industry a full range of wind measurement technologies and turnkey field services.

Through the new partnership, UK-based wind developers and wind farm operators -- both large and small -- will be able to quickly install the wind measurement systems that are vital in the development and operation of wind farms. This year, Dulas celebrate 30 years of providing engineering, installation, and consultancy services for the UK's renewable energy market. The firm now will sell, rent, and service Second Wind's Triton® Sonic Wind Profiler, the global wind industry's leading remote sensing system. Dulas will also offer Second Wind's Nomad® 2 Wind Data Logger and met mast-based wind sensors in addition to the suite of monitoring equipment they already sell and service.
The Triton adds value to Dulas' met mast solution by measuring wind conditions through the full blade sweep of today's largest wind turbines. This high-height data reduces the uncertainty that is introduced by extrapolating from a shorter met mast. Second Wind's SkyServe® Wind Data Service brings wind measurements from the Triton together with tower-based measurements on a secure web-based dashboard, allowing wind data to be accessed in real time, compared, and securely archived.
"Dulas offers a one-stop solution for anyone requiring state-of-the-art measurement systems on their wind projects," said Colin France, Second Wind's Director of European Business. "Dulas offers the flexible, rapid deployment options that today's wind developers and operators need, along with turn-key field support to keep their wind measurement projects operating efficiently."
Based in Wales, Dulas -- which has been offering Triton rentals for a year -- decided to expand its relationship with Second Wind to offer its customers a greater selection of tools and technologies for wind measurement projects. "Second Wind's technology and data services allow us to help our customers from start to finish with their wind assessment and wind monitoring needs. In addition, Triton is being used successfully for noise monitoring studies and for stand-alone use on single-turbine projects," says Jonathan Say, Head of Wind Monitoring at Dulas.
"Dulas is at the forefront of wind energy in the UK, providing wind turbines, full wind development services, and resource assessment," says Colin France. "Dulas has earned a reputation for innovation and reliability and we are pleased to be partnering with them to offer the UK's wind industry greater access to our technology."
About Dulas
Dulas brings together expertise, skills and knowledge in the renewable energy sector and is able to advise clients on renewable energy including solar pv, wind, biomass, and hydro systems. The company operates in all areas of the supply chain from feasibility and resource assessment through to installation, project management and operation and maintenance. The Dulas mission is to improve lives through renewable energy and sustainable technology. In order to meet these goals we have made commitments to quality, sustainability and health and safety.In recent years Dulas has gained the Queens Award for Enterprise, the Welsh Exporter of the Year, and Welsh Small and Medium Enterprise of the Year awards. For more information please visit http://dulas.org.uk/.
About Second Wind
Second Wind has been a global innovator in advanced technology for wind measurement since 1980. Our sole focus is on supporting the development and operations of the world's wind energy industry. Key innovations include the Nomad® wind data logger and tower systems; Triton® remote sensing systems; and SkyServe® satellite wind data service. Second Wind is headquartered in Somerville, Massachusetts, USA. For more information on the Triton Sonic Wind Profiler and Second Wind's other product and service offerings, visit www.secondwind.com.
Featured Product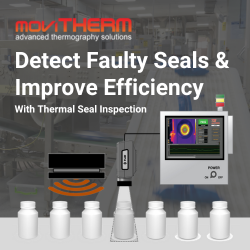 MoviTHERM's Thermal Seal Inspection (TSI) solution provides precise and reliable detection of defects in a variety of packaging types, including pouches, bags, blister packs, bottle caps, and more. By detecting defects in your packages, the TSI solution helps increase efficiency in your production line and ensures top-quality packaging is delivered to your customers every time. With state-of-the-art technology and an experienced team, MoviTHERM is dedicated to delivering accurate inspection solutions and peace of mind to its clients. Contact MoviTHERM today to learn more about their thermal seal inspection solution.