~Local Officials Join Valley of the Sun YMCA, Scout Solar, and Centrosolar America for Ribbon Cutting Dedication in Scottsdale, Arizona~
Scottsdale, AZ-March 23, 2012-Today, the Valley of the Sun YMCA, Scout

Solar, LLC, Centrosolar America, and the City of Scottsdale celebrated the
deployment of 66.55 kilowatts of solar power as part of a 1.6 MW, multi-YMCA
project that promises to generate 10 to 80 percent of each facility's
electrical consumption over the next 20 years, depending on the location.
"We could not be more excited to activate a new era of sustainability for
the YMCA throughout Arizona," said George Scobas, President and CEO of the
Sun YMCA. "Our partnership with Scout Solar and Centrosolar will
substantially reduce our energy costs, so that we are able to continue our
standard of bringing excellent, affordable programs to our local
communities," said Scobas.
The ribbon cutting ceremony, held at the Scottsdale Valley of the Sun YMCA
branch, joined Scottsdale Mayor Jim Lane with local business leaders to
celebrate Arizona's oldest non-profit organization's commitment to solar
generated energy.
"I applaud the YMCA's commitment to alternative energy. By committing to
solar power, they not only demonstrate sustainability to the children and
families they serve, they also extend the power of every dollar. A project
like this means that the community will be better served, and that's what
matters most," said Scottsdale Mayor Jim Lane.
The project will include more than 6,200 solar modules, mostly coming from
Centrosolar America, mounted on rooftops and shade canopies across 16 Valley
of the Sun YMCA facilities in Arizona and will generate more than 2,700,000
kilowatt-hours (kWh) of electricity annually when fully completed at the end
of the summer.
Solar has already been installed at six locations and will be in place at
the majority of YMCA facilities in the state when the projects are all
completed, including: Ahwatukee, Chris-Town, Chandler/Gilbert, Desert
Foothills, East Valley, Glendale/Peoria, Goodyear, Maryvale
Scottsdale/Paradise Valley, South Mountain, Tempe, and the main Lincoln
Family Downtown YMCA. It will also include Chauncey Ranch, near Mayer, Camp
Sky-Y near Prescott and the Flagstaff branch in northern Arizona.
Scout Solar is installing the solar systems with no out of pocket costs for
the Valley of the Sun YMCA. Scout Solar, along with a group of private
investors, will also own and operate the systems. The project was made
possible, in part, by solar incentives from SRP and APS.
"Through this solar installation, the YMCA is planning for the future by
reducing electricity costs and locking in consistent, long-term savings,"
said Scout Solar Project Administrator, Michael Norris.
Bringing together best-in-class project partners, Scout Solar teamed with
Centrosolar America and other suppliers who provided the solar modules and
system components, with Solar Energy Group for system design, Wang Electric
on the electrical installation and Skyline Steel to construct the shade
canopies and racking.
"Thirteen of the projects will be equipped with our E-Series panels that
utilize polycrystalline high-efficiency silicon cells to generate higher
power output per module. This PV module configuration also meets the highest
industry standards for resisting intense heat as is typical in the Arizona
climate," said Centrosolar Director of Sales, Chris Wood.
About Valley of the Sun YMCA
Valley of the Sun YMCA is one of the largest human services non-profit
organizations in Arizona. As the oldest non-profit in Arizona, celebrating
120 years in 2012, the YMCA serves local communities in Maricopa County,
Pinal County, Yuma, Flagstaff and Prescott offering over 283 programs and 26
social services at 17 locations.
Members are welcome regardless of gender, religion, ethnicity, age or
ability to pay. The YMCA aims to provide each member with every opportunity
to reach farther and improve their lives and the lives of those around them.
Through Youth Development, Healthy Living and Social Responsibility, the
YMCA's goal is to inspire positive and lasting social change. Visit
www.valleyYMCA.org to learn more.
About Scout Solar, LLC
Scout Solar, LLC is a privately-owned solar project integrator based in
Tempe, Arizona, providing installation, project management and financing
services. Having assisted both commercial and non-profit organizations in
the Phoenix Metro area, the company has established a reputation for
installing systems that rate well above market standards. Working closely
with a range of equipment manufacturers and distributors, steel contractors
and engineering consultants, as well as 3rd party financial institutions as
needed, Scout Solar is able to provide quality systems under a financial
model that works well for all parties involved. For more information, see
www.scoutsolar.com
About Centrosolar America, Inc.
CENTROSOLAR America Inc. is a wholly owned subsidiary of CENTROSOLAR Group
AG, one of the leading publicly traded solar companies in Europe, with
revenues of EUR 403mn ($540mn) in 2010 and over 1000 employees in 21
locations. CENTROSOLAR has production facilities in Germany for its PV
modules and components like solar glass. Centrosolar America, Inc. has a
strong offering in the US market with complete CentroPack PV kits - along
with branded PV modules, PV rooftop racking solutions and other balance-of
system components like switchgear and inverters. Centrosolar America has
full-scale distribution facilities in Arizona, California and New Jersey and
serves a national value-added integrator network for the residential and
commercial channel. More information at
www.centrosolaramerica.com
Featured Product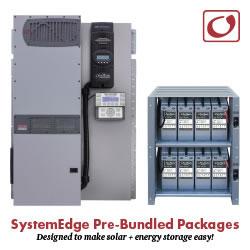 Each pre-bundled package is designed to make solar plus energy storage easy. By combining OutBack's most popular FLEXpower pre-wired systems with matched OutBack energy storage, SystemEdge takes the guesswork out of installing solar plus storage. Every SystemEdge package includes a FLEXpower factory pre-wired system, application-specific EnergyCell batteries and racking, FLEXware ICS Plus combiner and all the necessary connection hardware.