Grupo Musa and Synergy Technologies Partner to Provide Solar Energy to Northern Mexico with SolFocus Advanced Concentrator Photovoltaic (CPV) Solar Equipment
TIJUANA, Mexico & SAN JOSE, Calif.--SolFocus, Inc. joined today with Mexican land and real estate developer Grupo Musa and U.S.-based energy developer Synergy Technologies, LLC to announce the launch of a landmark solar power plant in Baja California near Tecate, Mexico. The project, planned as a 450 megawatt total capacity, will be built in 50 megawatt tranches, with construction on the first tranche starting in late 2012 and being operational before the end of 2013. The power plant, which will use SolFocus Concentrator Photovoltaic (CPV) equipment, will be owned and operated by SolMex Energy S.A. de C.V., the new company formed by Grupo Musa and Synergy Technologies for the production of clean solar energy in Mexico.

"The project is in direct alignment with the Mexico and U.S. bilateral clean energy agenda. The countries share a common goal of achieving strong economic growth and energy security while addressing climate change and increasing the reliability of energy infrastructure," said Lic. David Muñoz, Director General of the Baja California State Commission of Energy. "Mexico has been successful with wind energy, and now this large solar project will support our energy infrastructure and economic development efforts in the very near future. This project adds to Governor Osuna Millan's vision of a sustainable Baja California."
Historically, the renewable energy market in Mexico has been comprised primarily of wind power. However, with the launch of this project, solar has made a major step forward as an energy source for the country. Grupo Musa recognized this opportunity for providing low-cost, dependable energy and will be consuming most of the initial 50 megawatt installation to meet energy demands at its various facilities. "There is no doubt that Baja California faces energy challenges, and we are excited that we are able to utilize two of our key resources – abundant land and solar fuel – to enhance the environmental and economic sustainability of Northern Mexico," explained Ing. Marcos Sarabia Rodelo, Director of Special Projects for Grupo Musa. The power plant is being built on land owned by Grupo Musa near Tecate. Northern Mexico has the third greatest solar resource in the world, making it an ideal location for this project.
"While Tecate is a solar-rich region, the hot temperatures make it a challenging environment for traditional solar equipment," commented Synergy Technologies CEO Matt Piell. "We decided to use the advanced, high-efficiency CPV equipment from SolFocus in order to reduce the amount of equipment required, have systems which operate at top performance even in these hot temperatures, and improve the overall financial economics of the project."
"Building on the track record of SolFocus projects in the southwest U.S. and Mexico, this project in Mexico will turn dormant land into jobs and low-cost, reliable electricity," added SolFocus CEO Mark Crowley. "In the first year of operation we should deliver at least 120,000 megawatt hours of electricity to Baja California." The power plant will incorporate 3,850 SolFocus SF-1136SX systems on the 122 hectare (~300 acre) site.
This project has been a collaborative effort of both public and private enterprises. Instrumental in the execution of the project were ProMéxico and Asian Pacific Development Corporation. "After thirty years of doing infrastructure projects on four continents, we have never had stronger support than we have received from ProMéxico, the Mexican Consular Corps, Ambassador Sarukhan, local and state government officials, and representatives of CFE," commented Randy Avon, CEO of Asian Pacific Development Corporation. The corporation brought together the consortium of partners, worked with the Mexican government, and facilitated many aspects of the project including engagement of international financing corporation FINEXIM for a commitment on debt financing.
"After a year of full cooperation and collaboration between top executives at ProMéxico and the project team, FINEXIM has allocated $720 million to the first four of nine 50 megawatt tranches of the solar project," added William Beilman, Managing Director of FINEXIM.
About Grupo Musa
Since its founding in 1948, Grupo Musa has been a leading developer in the city of Tijuana, Baja California, Mexico, building large projects including industrial parks, shopping malls, housing and infrastructure projects for the cities. Its clients include national and international firms who have selected Grupo Musa as their partner because of the company's proven execution ability and quality projects. For its projects Grupo Musa provides complete planning, design, procurement and construction services. Specializing in the market of Tijuana, Grupo Musa has developed over 250 business and industrial projects including building design and construction, design of production lines, contracting of employees and daily operations management. In all of its operations the company remains committed to protecting the environment. Renewable energy is a natural expansion of Grupo Musa's business activities. www.grupomusa.com.mx
About Synergy Technologies, LLC
Synergy is a Group of Affiliated Companies with Synergy Technologies LLC being engaged in technology decisions and engineering, contracting, project funding and project ownership. Synergy Technologies has significant experience in energy projects, including waste-to-energy plants. The company has projects in the southern U.S. and in Latin America. The group leverages leading consultants with strong governmental ties in region to navigate projects and facilitate rapid schedules. Synergy Technologies engages in manufacturing technology as is required to support energy projects. Synergy Technologies will leverage its energy experience and manufacturing expertise in The Tecate Project. synergywms.com
About SolFocus
SolFocus is a leading manufacturer of solar energy systems based on Concentrator Photovoltaic (CPV) technology. The company's mission is to deliver the lowest cost of solar energy in high solar resource regions of the world. Achieving this objective starts with developing industry-leading, high-efficiency products which deliver the highest energy harvest of any technology available today. When combined with volume manufacturing and component sourcing the technology drives delivery and operation costs to their lowest. In addition to low costs, SolFocus produces product that provides extended reliability and field durability, critical requirements when deploying energy systems which will remain productive in the field for over 25 years. Currently SolFocus is actively deploying product around the globe. SolFocus products can be seen operating in Mexico, Chile, Arizona, Colorado, California, Hawaii, Italy, Portugal, Greece, Spain, Australia, Saudi Arabia, South Africa and Malaysia. SolFocus CPV systems are certified to the rigorous standards of IEC 62108, and are backed by Munich Re performance insurance. www.solfocus.com
About Asian Pacific Development Corporation
Asian Pacific Corp. Panama, S.A. is a multinational business development and investment banking company. APDC, with its global network, has completed over ten billion dollars in global infrastructure projects in 28 nations during the past three decades. These projects were mostly public/private partnerships that utilized debt, equity, and cooperative funding from OPIC, InterAmerican Development Bank (IDB), EXIM Bank, Andean Development Corp., Asian Development Bank, domestic and international hedge funds, the international banks of Panama and the private sector. These projects utilized U.S. FTA treaties, Free Trade Zones, in-country joint venture partners, and off-shore economic incentives. www.asianpacificdevcorp.com
Featured Product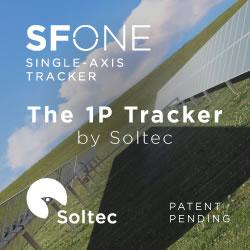 SFOne is the 1P single-axis tracker by Soltec. This tracker combines the mechanical simplicity with the extraordinary expertise of Soltec for more than 18 years. Specially designed for larger 72 an 78 cell modules, this tracker is self-powered thanks to its dedicated module, which results into a lower cost-operational power supply. The SFOne has a 5% less piles than standard competitor, what reduces a 75% the labor time.