What:

Join the Geothermal Energy Association (GEA) and geothermal industry leaders for a press conference call to discuss the release of GEA's latest industry report, the Annual U.S. Geothermal Power Production and Development Report. Participants will include GEA Executive Director Karl Gawell, and executives from top U.S. geothermal companies, including Energy Source, Ormat, TAS Energy and U.S. Geothermal Inc. The discussion will focus on the report's findings, including overall industry growth, emerging technologies that are spreading the reach of geothermal, and challenges for future expansion. While the U.S. continues to outpace every other nation in the world when it comes to installed geothermal capacity, it has not yet reached its full potential, due in part to inconsistent federal policies. Industry leaders will discuss this year's successes, challenges, and what needs to be done to advance the industry in the coming years.
Who:
Karl Gawell, Executive Director, Geothermal Energy Association
Dan Jennejohn, Research Associate, Geothermal Energy Association
Derek Benson, Director, Project Development, Energy Source
Halley Dickey, Director Geothermal Business Development, TAS Energy
TBD, U.S. Geothermal Inc.
Paul Thomsen, Director, Ormat Technologies, Inc.
When:
Tuesday, April 3; 12:00pm ET/9:00am PT
Where:
Toll free call-in number: 800 894 5910 (International: 785 424 1052)
Conference ID: GEOTHERMAL
For more information, please contact Matthew Schwartz, The Rosen Group, 646 695 7047 or mschwartz@rosengrouppr.com.
About the Geothermal Energy Association:
The Geothermal Energy Association (GEA) is a trade association composed of U.S. companies who support the expanded use of geothermal energy and are developing geothermal resources worldwide for electrical power generation and direct-heat uses. GEA advocates for public policies that will promote the development and utilization of geothermal resources, provides a forum for the industry to discuss issues and problems, encourages research and development to improve geothermal technologies, presents industry views to governmental organizations, provides assistance for the export of geothermal goods and services, compiles statistical data about the geothermal industry, and conducts education and outreach projects. For more information, please visit http://www.geo-energy.org/. Follow GEA on Twitter. Become a fan on Facebook.
Featured Product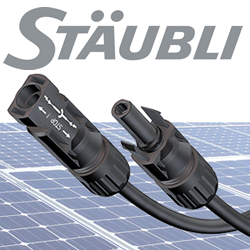 ​Stäubli Electrical Connectors are used on more than 300 GW, over 50% of the PV capacity worldwide. The MC4 family of UL and TUV listed products include connectors, in-line fuses, branch connectors, cable assembly and more.