Unique Double-Sided Panels Cover Skybridge at Safeco Field
Secaucus, NJ and Seattle, WA (March 29, 2012) – Panasonic Enterprise Solutions Company in partnership with the Seattle Mariners announces the installation of a solar panel system comprised of 168 Panasonic HIT® Double solar panels at Safeco Field, the Seattle Mariners' home ballpark. HIT® Double solar panels are unique because they are aesthetic and able to absorb and generate electricity from both the top and bottom sides of the panel. Installation is set to be completed by the start of the 2012 baseball season next month.

The project is part of the Seattle Mariners ongoing commitment to sustainability that includes electric vehicle charging stations, high-efficiency lighting and other eco-friendly measures. InSpec Group, the contractor on the project, has designed the 168 Panasonic solar panel system to be mounted on the elevator canopy of the parking garage and the roof of the skybridge that spans Edgar Martinez Drive. The 32.76-kilowatt system will generate approximately 40,000-kilowatt hours of power annually which will be filtered into the Safeco Field distribution grid. Fans will be able to track the amount of power generated by the solar panels on the monitors inside the ballpark.
According to Jim Doyle, President of the Panasonic Enterprise Solutions Company, "The Mariners have a commitment to sustainability and our system will help them achieve their goal by saving using a natural power source, the sun, reducing Safeco Field's energy costs and making their fans aware of how solar energy generation, even in places like Seattle, can make a difference for any commercial site."
Noted environmentalist and actor Ed Begley Jr., a proponent of solar panel systems, is working with Panasonic on a solar panel installation system for his new home that he is building in Los Angeles. "The installation of Panasonic's bifacial panels at Safeco Field sounds like a home run to me," said Begley, Jr. "Safeco Field will reap many benefits with this solar panel system. For Safeco and the Mariners, it makes economic sense to use the power of the sun to help reduce their energy costs. In addition, it puts them in the environmental forefront with their Corporate Social Responsibility (CSR) program," Begley, Jr. added.
About HIT® Solar Panels
HIT® stands for Heterojunction with Intrinsic Thin-layer. HIT® solar cells are hybrid solar cells composed of single crystalline silicon wafers surrounded by ultra-thin amorphous silicon layers, a proprietary technology originally developed by SANYO. The unique structure minimizes defects within the p/n junction of the cell, producing highly efficient cells capable of achieving higher module efficiency while producing more power even under hot temperatures.
About Panasonic Enterprise Solutions Company
Panasonic Enterprise Solutions Company is a unit of Panasonic Corporation of North America, the principal North American subsidiary of Panasonic Corporation (NYSE: PC). The company develops and provides customized and integrated technology-based systems solutions for enterprise customers in the sports and entertainment industries as well as in the education sector. To learn more about the company or read case studies about solutions created for other customers, visit http://www.panasonic.com/business/enterprise/enterprise-solutions-company.asp
Panasonic is pledged to practice prudent, sustainable use of the earth's natural resources and protect our environment through the company's Eco Ideas programs. Panasonic was the only Consumer Electronics company to be listed in the top ten brands on the Interbrand Best Global Green Brands 2011 ranking. Follow Panasonic on Twitter @panasonicdirect, and additional company information for media is available at www.panasonic.com/pressroom.
Featured Product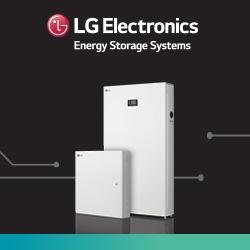 LG Solar is transforming today's solar landscape, offering precision-manufactured and high-efficiency solar panels for homeowners who demand high performance, reliability and consistently strong energy yield from a brand they can trust. LG modules feature outstanding durability, appealing aesthetics and high-efficiency technology, backed by a limited 25-year product, performance and labor (up to $450) warranty. Homeowners who purchase LG Solar modules know they're protected by a diversified global brand.