Experts have long said that one of the things slowing down the coming 'green revolution' has been a lack of practical ways for the average person to take part.
[Grants Pass, OR] - March 31, 2012 - Experts have long said that one of the things slowing down the coming 'green revolution' has been a lack of practical ways for the average person to take part. In order for a green choice to be more practical, it actually needs to benefit the person making that choice and until now, few choices of this kind have involved doing much more than paying extra for a product or service or having to do something that would otherwise not have had to be done, such as gather up materials for recycling. In today's world, however, things are much different and thanks to technology, innovation is able to leap forward to the point where we now find that switching to alternate types of power has major advantages. Solar power has long been touted as a major source of energy that we have not been harnessing to its full potential, but all that may be about to change thanks to the fact that foldable solar panels allow batteries on such vehicles as motorcycles, ATVs and UTVs to be changed no matter where the driver might be located at the time. For those who love to explore the great outdoors on one of these vehicles, few things could be quite as thrilling as having even more freedom to do exactly that.

At Oregon based Impact Battery, finding this kind of solution is even easier than through traditional retailers because this is one company that has dedicated itself to offering intelligent, socially responsible solutions for the battery needs of their customers. They can offer cutting edge
motorcycle battery charger
options that are competitively priced and definitely give their customers the kind of lasting charge they are looking for. This is really going to make a difference for those who would like to get the most from each charge and who prefer to be able to shop with greater convenience, as well. Since they can shop online any time, they will be able to find precisely what they want for their vehicles for a lot less and have it delivered right to their door, too. This saves time, hassles and money - always a great trifecta.
Those wanting to learn more about Impact Battery and all it has to offer should visit
http://www.impactbattery.com
today. They will see that their choices for great batteries and chargers are excellent.
Contact Info:
Impact Battery, A Division of The Benevolence Group
Darren Somerville
2088 Robinson Road
Grants Pass, OR 97527-9282
866-668-3163
Darren@impactbattery.com
http://www.impactbattery.com
Featured Product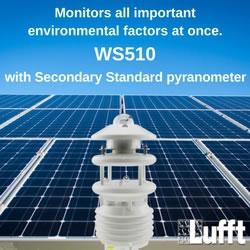 Professional weather sensors form the heart of large solar plants supporting their operation and performance. Lufft was the first manufacturer to combine several sensors in one housing, bringing the largest multiparameter weather sensor family with 19 members into being. Many of them are well-suited for solar site assessment and continuous monitoring. The most commonly used one is the WS600 delivering data on temperature, air pressure, wind, relative humidity and precipitation. Through its open protocol, it can easily be attached to radiation sensors e.g. from Kipp&Zonen. Other models have an integrated Silicon, Second Class or Secondary Standard radiation sensor.