Leading San Diego Firm Offers Cash Incentives to Homeowners
SAN DIEGO, CA (April 2, 2012) – With the potential of developing the nation's largest collective deployment of solar energy, locally headquartered business Sullivan Solar Power announced its launch of the San Diego Solar Program yesterday. The innovative program allows eligible residents to go solar for no upfront cost and receive a substantial cash payment for their involvement.

"San Diego's Solar Program is designed in a manner that financially encourages the entire community to go solar," said Daniel Sullivan, founder and president of Sullivan Solar Power, "The goal is to shift San Diego's dependence from nuclear power and imported fossil fuels to renewable resources and show the rest of the nation that it can be done."
The program provides participants cash payments at a level greater than incentives that are provided by the State of California. The program is modeled similarly to the State program, in that the early adopters will receive the highest incentives. The average San Diego county homeowner who participates in the first phase of the program will receive a check for $2,500. Incentive amounts will be reduced as more people sign up, until the program closes on December 31, 2012. The countywide solar program is limited to 500 residences.
Over the past three years, Sullivan Solar Power has ran numerous similar programs tailored specifically for cities in the region including Coronado, Poway, Escondido, Vista, Fallbrook, Carlsbad and Chula Vista. To date, the company has already disbursed over $400,000 to property owners with these smaller hyper local programs. The firm decided to take a larger visionary approach in 2012 with the start of this new quarter.
"In just one hour, the sun casts enough energy upon the Earth's surface to provide the entire world with power for one year, yet less than 1 percent of our electricity is generated from solar," said Sullivan, "We need to harness this resource for the benefit of our future generations and this is our company's way of contributing to our children's future."
The City of San Diego was recently named the number one solar city in the state for the second time in a row, both for number of solar rooftops and capacity installed. California has more solar power systems than any other state in America, therefore providing the City of San Diego its prestigious title of solar capitol of the nation. However, even the country's leading solar city has less than one percent of its electricity coming from solar power.
When asked why people haven't adopted the technology in greater percentages, Sullivan says that there is a general lack of knowledge and a lot of misconceptions about solar. Most people aren't aware that it is cheaper than the utility. His company has set out to change that, and is working to educate the entire region about the benefits of solar through a series of luncheons and informational presentations throughout the community.
"With the financing options that we have available today, homeowners can go solar for $0 out-of-pocket, save money every month and then with the San Diego Solar Program, we are going to send them a check," said Sullivan, "We are paying people to go solar with this program. How is that for an economic stimulus plan?"
A solar luncheon will be taking place for San Diego homeowners on Saturday, May 12 at 11 a.m. at Balboa Park, in the Mingei International Museum (1439 El Prado). The presentation will be one hour and inform residents about solar technology, rebates and incentives, case studies and details of the San Diego Solar Program.
Additional information on the program can be found by visiting SanDiegoSolarProgram.org or by calling 1-800-SULLIVAN.
About San Diego's Solar Program
Launched April 1, 2012, this program has been developed to help the San Diego region reach its renewable energy goals. Participants are able to go solar for $0 upfront with a monthly payment equal to or less than current electric bills. In order to encourage residential property owners to go solar, substantial cash-back incentives will be paid to eligible participants. The incentives offered through the San Diego Solar Program are larger than those currently being offered under the California Solar Initiative rebate program. Cash incentives offered through the program will continue to drop until fully exhausted. San Diego Solar's Program provides incentives on a first come - first served basis limited to 500 homes and will expire on December 31, 2012. Visit www.sandiegosolarprogram.org for more information.
About Sullivan Solar Power
Sullivan Solar Power is headquartered out of San Diego, CA and owned and operated by Daniel Sullivan. Sullivan Solar Power is a turnkey solar system provider that services all of Southern California and delivers projects from concept to completion. The company has installed over 9,000,000 watts of solar power ranging from small-scale residential to large-scale commercial and municipal systems. According to California Solar Initiative data, Sullivan Solar Power has installed more residential solar power systems than any other company in San Diego County. Regardless of project size and scope, Sullivan is committed to delivering the best products and the most qualified professionals to its customers. Visit www.sullivansolarpower.com for more information.
Featured Product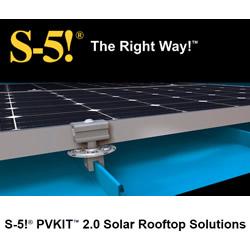 The concept of combining PV arrays with standing seam metal roofing is growing-for good reasons. Metal roofs have a life expectancy of more than 40 years. Shouldn't the mounting system last as long? With S-5! zero-penetration attachment technology and PVKIT 2.0, the solarized metal roof is the most sustainable system available -and without compromising roof warranties! PVKIT 2.0 is the also the best solution for attaching PV modules directly to any exposed fastener metal roof.