Manufacturers' Shipment Growth Plans in Line with Market Demand in First Three Quarters of 2012
SANTA CLARA, Calif., April 2, 2012—Strong early-year photovoltaic market demand in 2012, stimulated by a shifting and uncertain policy environment in Europe, has established the foundation for PV manufacturers to increase shipments this year, according to the latest Solarbuzz Quarterly report from NPD Solarbuzz.

Q4'11 global industry end-market revenues reached $35.4 billion, their highest level since Q4'10, but are now projected to drop to $22.0 billion in Q4'12, a result driven by both lower volumes and prices. Over-optimism on shipments and production twelve months ago, together with weak global demand growth in the first three quarters of 2011, were the drivers of last year's pricing collapse through the PV chain.
"Major cell and module manufacturers are projecting shipment growth of 23% in 2012, considerably less than the 40% they had initially planned for 2011 at the same point last year. The acceleration of demand into 1H'12 will initially support these growth plans," said Michael Barker, Analyst at NPD Solarbuzz. "However, the quarterly 2012 forecast anticipates the need for production cutbacks in Q4'12, resulting in only 13% shipment Y/Y growth by the end of 2012."
The NPD Solarbuzz Quarterly report also finds that Chinese, Taiwanese and Rest of World manufacturers, who grew production share from 69% in Q4'10 to 78% in Q4'11, are projected to increase moderately to 79% by Q4'12. Upstream module inventory days dropped 24% Q/Q at the end of Q4'11, through a combination of production cutbacks and increases in shipments from some manufacturers in the final quarter. However, downstream companies were the primary beneficiaries of the Q4'11 demand boom, as their inventory days dropped by 81%.
Vertically integrated Western and Japanese manufacturers dealt with negative margins for the third consecutive quarter in Q4'11, while average Chinese Tier I gross margins declined from 12% to 7%. "Major PV companies no longer have the balance sheet flexibility to absorb large additional cuts in prices," added Barker. "They will need to watch the supply/demand balance closely in order to avoid further pressure on gross margins."
The latest data-driven NPD Solarbuzz Quarterly report brings together a comprehensive analysis of industry production, capacity utilization through the PV chain, shipments, upstream and downstream module inventories, quarterly demand for the key markets, and the full PV chain price picture. The report also includes corporate data for leading companies' quarterly cell production and data through the PV chain, along with financial indicators. For more information or to order NPD Solarbuzz regional reports, contact us at one of our seven global locations, email us at contact@solarbuzz.com, or call 1.516.625.2452.
About NPD Solarbuzz
Solarbuzz, part of The NPD Group, is a globally recognized market research business focused on solar energy and photovoltaic industries. Since 2001, Solarbuzz has grown its client-base to include many of the largest global PV manufacturers, major investment banks, equipment manufacturers, materials suppliers, hedge fund companies, and a vast range of other multi-nationals. Solarbuzz offers a wide array of reports, including Marketbuzz®, an annual global PV industry report, and Solarbuzz® Quarterly, which details both historical and forecast data on the global PV supply chain. The company's research also provides annual downstream PV market reports by region for Europe, Asia Pacific and US markets. In addition, Solarbuzz.com is a recognized and respected online resource within the solar industry. For more information, visit solarbuzz.com or follow us on Twitter at @Solarbuzz.
About The NPD Group, Inc.
The NPD Group is the leading provider of reliable and comprehensive consumer and retail information for a wide range of industries. Today, more than 1,800 manufacturers, retailers, and service companies rely on NPD to help them drive critical business decisions at the global, national, and local market levels. NPD helps our clients to identify new business opportunities and guide product development, marketing, sales, merchandising, and other functions. Information is available for the following industry sectors: automotive, beauty, commercial technology, consumer technology, entertainment, fashion, food and beverage, foodservice, home, office supplies, software, sports, toys, and wireless. For more information, contact us or visit www.npd.com and www.npdgroupblog.com. Follow us on Twitter at @npdtech and @npdgroup.
Featured Product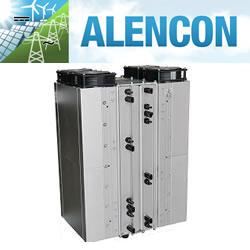 Alencon Systems is the premier manufacturer of high power, high voltage DC:DC optimizers for alternative energy applications including solar, battery energy storage, Microgrids, Fuel Cells and Electric Vehicle charging. Alencon's DC:DC converter offerings include the SPOT, BOSS and CUBE series DC:DC converters. The SPOT is a modular, uni-directional DC:DC solution ideal for solar applications. The BOSS is a modular, bi-directional unit for use with battery energy storage. The CUBE is a monolithic DC:DC converter which is available in both uni-directional and bi-directional modalities. Pictured above, is the Alencon SPOT.