New Innovative Product in Open Solar(TM) Program
AUBURN HILLS, Mich., April 2, 2012 -- United Solar, the

global manufacturer of UNI-SOLAR(R) lightweight, flexible solar products and
a wholly owned subsidiary of Energy Conversion Devices, Inc. (ECD) (OTC:
ENERQ.PK), is proud to announce the first Solar Sail electric car charging
station constructed by Pvilion using UNI-SOLAR photovoltaic (PV) laminates.
The Solar Sail electric car charging station is located in Pflugerville,
Texas, near Austin, at the entrance to Pflugerville's Renewable Energy Park.
The sail was designed and constructed by New York based company, Pvilion,
who designs, builds and installs flexible, artistic solar structures.
UNI-SOLAR's lightweight, flexible laminates are attached to stainless steel
sheets that are twisted and tensioned to create the unique Solar Sail. The
1600 Watt Solar Sail is south facing, with each individual UNI-SOLAR panel
positioned at different angles to optimize the amount of electricity
produced. That electricity produced from this Solar Sail is enough to charge
two electric cars per day, and because the sail is connected to the utility
grid, any unused electricity will feed back into the grid. The Solar Sail
also features integrated LED RGB lighting, making it even more aesthetically
pleasing.
Pvilion will be hosting a reception for the Solar Sail at Pflugerville's
Renewable Energy Park on Thursday, April 5, 2012 from
5-8 pm CST. Attendees can enjoy tours of the Solar Sail as well as music,
food and drinks. The Solar Sail is part of a plan set forth by the
Pflugerville Community Development Corporation to attract green technology
companies to the city.
"Pvilion's Solar Sail provides electric car manufacturers and charging
station companies with a visual landmark attraction - the WOW factor - that
has been missing," said Todd Dalland, Co-Founder and President of Pvilion.
"It promotes clean energy with enhanced design, solar panel technology and
owner experience; a true game changer in the marketing of electric cars and
solar panels."
"By seamlessly integrating our UNI-SOLAR laminates into their unique design,
Pvilion was able to create the first photovoltaic electric charging station
of its kind," said Ed Sosnowski, United Solar's Project Manager for Open
Solar. "Pvilion is changing the way people view solar panels with its
ability to design and build attractive, flexible solar powered products."
United Solar has more than 25 years experience in the solar industry, is the
largest manufacturer of lightweight flexible solar panels in the world and
has been awarded nearly 70 United States patents for various technological
advancements.
About United Solar/UNI-SOLAR(R)
United Solar has been a global leader in building-integrated and rooftop
photovoltaics for over 25 years. The company manufactures, sells and
installs thin-film solar laminates that convert sunlight into clean,
renewable energy using proprietary technology for which the company has been
awarded over 70 U.S. patents. UNI-SOLAR(R) brand products are unique because
of their flexibility, light weight, ease of installation, durability, and
real-world energy production. For more information on United Solar visit
uni-solar.com or follow UNI-SOLAR on Facebook.com/unisolar and
Twitter.com/uni_solar.
United Solar and its parent company Energy Conversion Devices, Inc., on
February 14, 2012 filed voluntary petitions for Chapter 11 reorganization in
the U.S. Bankruptcy Court the Eastern District of Michigan. More information
about the Chapter 11 filing is available on the Internet at
http://www.energyconversiondevices.com/restructuring.php.
About Pvilion
Co-founded by Todd Dalland, Robert Lerner and Colin Touhey in 2011, Pvilion
is a vertically integrated designer and manufacturer of lightweight,
flexible products and structures that are integrated with flexible
photovoltaic (PV) modules and LED RGB lighting. The company's products
include the Solar Sail, a modular solar charging station for battery-powered
vehicles. Pvilion's products bring enhanced design and owner experience to
the promotion of clean energy. Pvilion's offices are in New York City, and
manufacturing is done at the Brooklyn Navy Yard. Pvilion is a pioneer in the
development of products that integrate fabrics and flexible PV modules.
Featured Product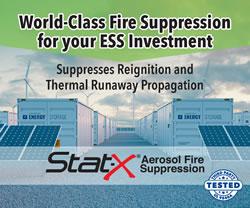 Stat-X® condensed aerosol fire suppression is a solution for energy storage systems (ESS) and battery energy storage systems (BESS) applications. Our Stat-X condensed aerosol fire extinguishing product was tested for efficacy in suppressing li-ion battery fires. It was found that the product successfully extinguished single and double cell battery fires. This testing was conducted in parallel with a large battery fire testing program on behalf of a large energy storage company.