CIS modules to serve PSE&G customers
Santa Clara, Calif., April 2, 2012 – Solar Frontier announced today that it has supplied modules to a 3.8 megawatt (MW) installation for Public Service Electric and Gas Company (PSE&G), New Jersey's oldest and largest regulated gas and electricity utility. Solar Frontier supplied approximately 29,400 CIS thin-film solar modules to the Mill Creek Solar Farm in Burlington County, New Jersey. The solar farm is part of PSE&G's Solar 4 All™ program and was developed, designed, and built by juwi solar Inc (JSI).

The Mill Creek Solar Farm will provide enough emission-free electricity to power about 575 average-size homes. The project illustrates PSE&G's commitment to solar power and the ever-growing significance of CIS technology in the industry. The Mill Creek Solar Farm is the largest project of any thin-film solar technology in the state.
"This is another milestone for Solar Frontier in the U.S. market," said Greg Ashley, COO of Solar Frontier Americas. "With juwi's experience, expertise and proven track record, Solar Frontier has all the more confidence in providing economical and ecological solar energy in large-scale solar photovoltaic projects like this PSE&G project in New Jersey."
"We are proud to have worked closely with Solar Frontier on its first deployment of modules to a large-scale utility project in the U.S.," said Michael Martin, CEO of juwi solar. "We firmly believe performance will meet or exceed our clients' expectations and look forward to a continued relationship with Solar Frontier on future installations."
"A main objective of our Solar 4 All program was to help develop a strong solar industry," said Al Matos, vice president, renewables and energy solutions, PSE&G. "By partnering with a wide range of companies like juwi solar and Solar Frontier, we are helping businesses take root and grow, creating jobs and helping New Jersey to meet its renewable energy goals."
PSE&G owns and manages the Mill Creek Solar Farm through its nationally recognized Solar 4 All program that will develop 80 megawatts of solar energy in New Jersey– enough power to serve about 13,000 average-sized homes. In addition to increasing the amount of solar capacity in the state, Solar 4 All also creates jobs and helps to make New Jersey a center for solar power in the country.
About Solar Frontier
Solar Frontier K.K., a 100% subsidiary of Showa Shell Sekiyu K.K. (TYO:5002) ("Solar Frontier"), has a mission to create the most economical, ecological solar energy solutions on Earth. Building on a legacy of work in solar energy since the 1970s, Solar Frontier today develops and manufactures CIS (denoting copper, indium, selenium) thin-film solar modules for customers in all sectors around the world. Solar Frontier's gigawatt-scale production facilities in Miyazaki, Japan, integrate compelling economical and ecological advantages into every module: from lower energy requirements in manufacturing to the higher overall output (kWh) of CIS in real operating conditions. Solar Frontier is headquartered in Tokyo, with offices in Europe, the U.S.A., and the Middle East. Visit www.solar-frontier.com for more information.
Showa Shell Sekiyu K.K.
Showa Shell Sekiyu K.K. is listed on the Tokyo Stock Exchange and has roots dating back more than 100 years in the downstream energy business.
Featured Product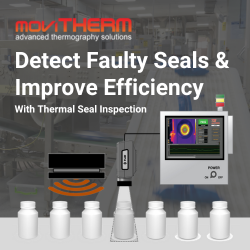 MoviTHERM's Thermal Seal Inspection (TSI) solution provides precise and reliable detection of defects in a variety of packaging types, including pouches, bags, blister packs, bottle caps, and more. By detecting defects in your packages, the TSI solution helps increase efficiency in your production line and ensures top-quality packaging is delivered to your customers every time. With state-of-the-art technology and an experienced team, MoviTHERM is dedicated to delivering accurate inspection solutions and peace of mind to its clients. Contact MoviTHERM today to learn more about their thermal seal inspection solution.