Baker Electric Solar received a 2012 Project of Distinction Award at PV America West from SEIA and SEPA for its 1.5 MW U.S. Marine Corps BEQ-9 Project.
Baker Electric Solar (BES), a full-service solar integrator specializing in green technology design / build for commercial and residential solar system installations, formally announced today that it has won a Photovoltaic (PV) Project of Distinction Award presented by SEIA and SEPA at the PV America West Expo in San Jose, Calif. The company received the award for its Bachelor Enlisted Quarters (BEQ-9) Complex at the U.S. Marine Corps Air Ground Combat Center (MCAGCC) 1.5 megawatt (MW) Project at Twentynine Palms, Calif.

The Solar Energy Industries Association (SEIA) and the Solar Electric Power Association (SEPA) Project of Distinction Awards honor major achievements in the U.S. solar energy marketplace. More than 80 entries were evaluated by an independent panel of judges representing associations, consultants, distributors, government, integrators, manufacturers and utilities. To qualify for the awards, projects had to be operational and demonstrate a collective benefit to the community and innovative use of policy and financing to enhance the project's impact.
Baker Electric Solar along with Arizona Western College and Clean Energy Collective were recognized with Project of Distinction Awards for their major achievements in U.S. PV solar energy at the PV America West Expo March 21 awards ceremony. Presented by SEIA and SEPA, PV America West is a regional Solar Power International event showcasing education and company exhibits.
BES partnered with Blue Oak Energy (BOE), a renewable energy engineering design firm, to install a 1.5 MW solar energy system at the BEQ-9 complex at the MCAGCC. The overall BEQ-9 construction project includes three 4-story BEQs (576 two-person rooms), a landmark projection tower, 500-seat outdoor amphitheater and 706-space 4-story parking garage. The challenge was to install the photovoltaic system without placing arrays on the BEQ rooftops. The team mounted modules in usable areas, creating dual-purpose structures while tying into each specific building to qualify for LEED status.
The BEQ-9 solar project features 4,680 SunPower® E19/318 Solar Panels. The four photovoltaic installations generate on-site solar electric power reducing energy costs for the military base while providing premium shading for the two parking areas, amphitheater and recreational park. Advanced 3D-modeling ensured that every module installed is usable, produces power and preserves the architectural aesthetics. The PV system is successfully integrated to the building management system. The weather station, inverters, and system performance meters are all synchronized with the military base central control panel.
In reference to General Wesley Clark's (U.S.A. retired) keynote address, President and CEO of SEPA, Julie Hamm said at the awards presentation, "We have a fine example in our third award of the military's growing use of solar technology. The Baker Electric Solar project delivers 1.5 megawatts of solar energy to the U.S. Marine Corps Air Ground Combat Center at Twentynine Palms, California."
"These are exciting times for the U.S. solar industry and the recipients of these awards show energy innovation at its best. From community-based solar to schools and military buildings, these remarkable projects show that solar is working and Americans are moving toward affordable, clean and sustainable power," said Rhone Resch, SEIA president and CEO.
"We are privileged to be a recipient of the prestigious Project of Distinction Award. The BEQ-9 Project is a testament to the importance of advancing the use of solar energy on our military bases. The awards program showcases the benefits of developing alternative energy sources for the future, and it is indeed an honor for our teams to be recognized for this achievement," said Baker Electric Solar, President, Ted Baker.
"This award is a meaningful distinction given the excellent projects and volume of installations the solar electric industry is now implementing nationwide. I applaud Ted Baker and his dedicated team at Baker Electric and express my sincere gratitude for engaging Blue Oak Energy on this landmark project," said Blue Oak Energy, CEO, Tobin Booth.
For more information on Baker Electric Solar, visit http://www.bakerelectricsolar.com.
About Baker Electric Solar
Escondido-based NB Baker Electric, Inc., dba Baker Electric Solar, designs, builds and installs photovoltaic solar power systems for new and existing homes and commercial facilities across Southern California. Baker Electric Solar is a SunPower Elite Dealer. For more information, visit http://www.bakerelectricsolar.com.
Featured Product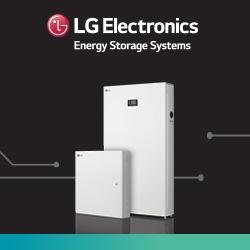 LG Solar is transforming today's solar landscape, offering precision-manufactured and high-efficiency solar panels for homeowners who demand high performance, reliability and consistently strong energy yield from a brand they can trust. LG modules feature outstanding durability, appealing aesthetics and high-efficiency technology, backed by a limited 25-year product, performance and labor (up to $450) warranty. Homeowners who purchase LG Solar modules know they're protected by a diversified global brand.