Analysis from Bloomberg New Energy Finance shows that the value of the world's carbon markets declined by 21% over the last quarter, despite trading volumes above the historical average
London, April 5, 2012 –The value of the world's carbon market fell to €14.2bn over Q1 2012, according to analysis by Bloomberg New Energy Finance. This was some 21% less than in the last three months of 2011 and 41% less than in the same period a year ago. The drop is the result of a 50% decline in the volume-weighted average carbon price compared with Q1 2011, to €6.6/t over the last three months.

Some 2.1bn tonnes of EU allowances (EUAs) and UN certificates were traded over the first three months of 2012 – this was 17% more than a year ago, making this the largest first-quarter volume on record. Bloomberg New Energy Finance expects volumes to grow by 39% over the year, on increasing auctioning volumes in the EU ETS. However the over-supply of carbon allowances in the EU ETS will continue to weigh on market values, which we predict to fall by 7.5% on an annual base to €85bn.
The volume-weighted average price of EUAs and international credits in the last quarter fell by 13%, from €7.6/t in Q4 2011 to €6.6/t, the lowest value since the start of Phase II of the EU ETS in 2008. Prices of EU allowances gained 30% from the start of the year to their highest closing at €9.51/t on 27 February, amid speculation that the European Commission would withhold carbon permits to boost the costs of emitting carbon dioxide. Over March, speculative length was withdrawn from the market, as traders took profits and became increasingly anxious that the set-aside might fall short of expectations. The ongoing dispute between the EU and other countries including China, India and the United States over the inclusion of the aviation sector in the EU ETS further limited the appetite for long positions.
The potential for regulatory intervention and the aviation dispute shifted the attention of carbon traders away from energy and macroeconomic fundamentals to the corridors of Brussels. This reduced the visibility in the market and helped drive the historical 60-day volatility to a record-high of 86% on 1 March. The volatility helped trading volumes climb to a new first-quarter high, even though they declined by 9% compared with the previous quarter.
Trading activity in international carbon credits, including Certified Emission Reductions (CERs), Emission Reduction Units (ERUs) and Assigned Amount Units (AAUs) created under the Kyoto Protocol tracked developments in the EU ETS. Volumes in Q1 2012 stood at an estimated 453Mt – some 28% less than their record-high levels in Q4 2011, but 26% higher than the same period last year. CER trading volumes were supported by EU ETS installations seeking to benefit from the discount to EUAs. The implied profit from exchanging an EU allowance for a UN certificate traded as high as €4.51/t on the December 2012 contract on 7 February.
Trading activity on carbon markets remains on a long-term growth trajectory. Bloomberg New Energy Finance expects the number of allowances changing hands to grow by 39% in 2012 compared with 2011, as monthly supply from auctioning, industrial sales and new entrant reserves grows by 50% to 90Mt in the second half of the year. The increase in traded volumes will help limit the impact of record-low prices on the value of the market. We expect the volume-weighted average price of carbon to stand at €7.5/t over 2012, down from €11.2/t in 2011. As a result, Bloomberg New Energy Finance expects the value of all transactions to decline for the first time in annual terms, shrinking by 7.5%, from €92bn in 2011 to €85bn in 2012 (Figure 2 and 3).
Guy Turner, director of carbon and power research at Bloomberg New Energy Finance, commented,
"The downward pressure on carbon prices has hit the headlines, but these figures show that the carbon market is continuing to trade actively. Trading volumes should pick up further into the year with the introduction of early auctioning in the EUETS and growing activity in California, although this increase is unlikely to offset the effect of low prices. We expect the total value of the carbon market in 2012 to be down slightly on last year."
ABOUT BLOOMBERG NEW ENERGY FINANCE
Bloomberg New Energy Finance is the world's leading independent provider of news, data, research and analysis to decision makers in renewable energy, energy smart technologies, carbon markets, carbon capture and storage, and nuclear power. Bloomberg New Energy Finance has a staff of 200, based in London, Washington D.C., New York, Tokyo, Beijing, New Delhi, Singapore, Hong Kong, Sydney, Cape Town, São Paulo and Zurich.
Bloomberg New Energy Finance serves leading investors, corporates and governments around the world. Its Insight Services provide deep market analysis on wind, solar, bioenergy, geothermal, carbon capture and storage, smart grid, energy efficiency, and nuclear power. The group also offers Insight Services for each of the major emerging carbon markets: European, Global Kyoto, Australia, and the U.S., where it covers the planned regional markets as well as potential federal initiatives and the voluntary carbon market. Bloomberg New Energy Finance's Industry Intelligence Service provides access to the world's most reliable and comprehensive database of investors and investments in clean energy and carbon. The News and Briefing Service is the leading global news service focusing on clean energy investment. The group also undertakes applied research on behalf of clients and runs senior level networking events.
New Energy Finance Limited was acquired by Bloomberg L.P. in December 2009, and its services and products are now owned and distributed by Bloomberg Finance L.P., except that Bloomberg L.P. and its subsidiaries distribute these products in Argentina, Bermuda, China, India, Japan, and Korea. For more information on Bloomberg New Energy Finance: http://www.bnef.com.
ABOUT BLOOMBERG
Bloomberg is the world's most trusted source of information for businesses and professionals. Bloomberg combines innovative technology with unmatched analytic, data, news, display and distribution capabilities, to deliver critical information via the BLOOMBERG PROFESSIONAL® service and Multimedia platforms. Bloomberg's media services cover the world with more than 2,300 news and Multimedia professionals at 146 bureaus in 72 countries. The BLOOMBERG TELEVISION® 24-hour network reaches more than 240 million homes. BLOOMBERG RADIO® services broadcast via Sirius XM Radio and 1worldspace™ satellite radio globally and on WBBR 1130AM in New York. BLOOMBERG MARKETS® magazine, Bloomberg Businessweek magazine and the BLOOMBERG.COM® Web site provide news and insight to business leaders and financial professionals. For more information, please visit http://www.bloomberg.com .
Featured Product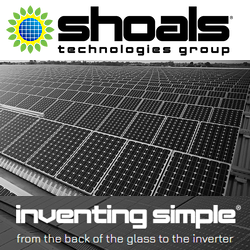 Inventing Simple® isn't just a slogan to us, it's a way of life. Using simple plug-and-play ideology, we revolutionized solar installations in 2003 with our Interconnect Systemâ"¢. Our harnessing system is now the gold standard EPC's use around the world. By using simple ideas, we are making solar energy a more affordable and clean power source for future generations.