ISIS is the first true solar information network, where every module, motor, tracker, and inverter is part of a comprehensive network architecture that includes GPS and Wi-Fi
FREMONT, Calif.--GreenVolts, Inc., provider of the industry's first and only complete and fully integrated solar system, today announced the availability of its solar energy management software for iPad® and iPhone® mobile devices. The new ISIS™ Mobile is a natural extension of the company's Internet-based ISIS energy management software and enables unprecedented management capabilities for GreenVolts solar systems ranging from smaller, distributed installations to large, centralized, utility scale solar plants.

"ISIS is powerful because of its deep integration with every component in the system, and ISIS Mobile is about providing operators with instant access to that information wherever they are—in the field, in the office, or on the road," said David Gudmundson, president and CEO of GreenVolts. "ISIS Mobile sets a higher bar for how solar power plants will be managed in the future."
ISIS is the first true solar information network, where every module, motor, tracker, and inverter is part of a comprehensive network architecture that includes GPS and Wi-Fi. As a secure, cloud-based application, ISIS eliminates the need for users to maintain servers, back-up, disaster recovery, or software updates. Scalability is virtually infinite, software and data maintenance reduced to zero, and access is ubiquitous for the users.
With ISIS Mobile, automated alerts, monitoring, diagnostics and control are now available on small, light, easy-to-use, and inexpensive mobile devices. Managers and operators that are on the go have quicker response time and greater productivity than ever before.
"ISIS is head and shoulders above the other solar energy monitoring software packages available today," said Rusty Wood, vice president, West Hills Construction. "What ISIS offers, that the others do not, is a level of granularity that allows us to understand exactly what is happening in the system so that we can get to that next level of optimization and efficiency."
"The best thing about ISIS is that you can easily track power generation and get a real-time look at how the system is performing," said Cliff Noorlander, CFO at Beneficial Insectary. "It has exceeded my expectations both in its capabilities and ease of use. Making this available on a mobile device is a great idea that will make it even more valuable."
Key features of ISIS:
*Integrated design—Developed as a core function within the GreenVolts CPV system, ISIS provides sophisticated, in-depth, and high resolution monitoring, reporting, and management capabilities that are fully mapped across the entire system architecture. Advanced algorithms that optimize the GreenVolts system have been built into ISIS. Generic third-party performance monitoring solutions do not and cannot provide these capabilities.
*Information-rich—Integrated intelligence and control for every 4 kW of the system provides precision and inspection that is not possible with centralized designs. ISIS provides overall system performance in the site portfolio view, and allows drill-down into a specific site, array, individual motor or string. The performance history of each active component and its original factory test data are archived together and can be cross-referenced to analyze trends over time. In addition to system performance, ISIS supplies live video of each site, weather and solar monitoring, asset management, and detailed maintenance logs.
*Secure and easy to use—The graphical interface is quick to learn and easy to use. ISIS automatically sends alerts if the system is not operating within customizable performance parameters. Customer-defined levels of access and authorization are password protected. Site data is maintained and backed up in a data warehouse and transmitted using secure protocols. Because of the hosted software model, no data synching is required and software updates are automatic, enabling plant managers to optimize operational decisions that simultaneously maximize yield and minimize costs.
ISIS Mobile will be available worldwide in April 2012 for iPad and iPhone mobile devices. ISIS and ISIS Mobile are included with the GreenVolts system at no additional cost.
Webcast and Live Demonstration
GreenVolts Engineering will lead an interactive session and provide a live demonstration of ISIS during this webinar. To see worldwide times and reserve your space for a one-hour session on May 23, go to ISIS Webinar Registration.
For more information, visit the GreenVolts website.
About GreenVolts
GreenVolts, Inc., founded in 2005, provides the only complete and fully integrated solar system, including modules, trackers, inverters, ISIS energy management software, networking, AC and DC disconnects, and all DC wiring. With expertise across the entire system, GreenVolts provides support from early planning and continuing over the life of the project. As a result, customers experience unmatched performance, faster installation, easier operation, a new level of customer care, and the lowest cost of energy in the industry.
Featured Product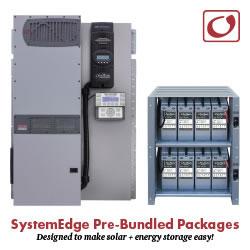 Each pre-bundled package is designed to make solar plus energy storage easy. By combining OutBack's most popular FLEXpower pre-wired systems with matched OutBack energy storage, SystemEdge takes the guesswork out of installing solar plus storage. Every SystemEdge package includes a FLEXpower factory pre-wired system, application-specific EnergyCell batteries and racking, FLEXware ICS Plus combiner and all the necessary connection hardware.