Deployment of the new SLK72P6L or SLK72M6L modules entails the installation of 20% fewer modules for the same power, saving components, cutting operating costs and installation time.
Siliken has opted for the EnR Fair (Salon des Energies Renouvelables) in Paris to introduce its new 72-cell monocrystalline SLK72M6L and polycrystalline SLK72P6L modules in black and white version. New in this product is that in order to install the same power, 20% fewer modules are needed, therefore saving components, cutting operating costs and installation time.

Siliken's 72-cell modules are already available in Europe and America, which is in line with the company's policy to release its new technology globally. The maximum power generated by the polycrystalline modules is 305Wp with +3/0% tolerance. They are UL, TÜV and Intertek certified for worldwide applications. The efficiency of the polycrystalline modules is up to 15.7% and that of monocrystalline modules peaks 16%.
Because of their high quality and reliability, Siliken's modules guarantee a fast return on investment in any PV installation, whether residential, industrial or PV plant.
In order to assure their quality, Siliken uses its own laboratory, where each module is subjected to rigorous product conformity and performance tests, including maximum power, electrical insulation and cell integrity using solar simulators and electroluminescence devices. The SLK72M6L and SLK72P6L modules have a 25-year linear power guarantee and a 10-year materials guarantee.
For the second year straight, Siliken's modules are topping the prestigious study carried out by Photon Laboratory.
From January to December 2010, Photon Laboratory ranked Siliken modules as the best in class regarding the accumulated power generation per year compared to more than 47 other modules produced by 36 manufacturers.
In 2011, Siliken modules were considered second best, generating 5.9% more power than the average of all of the studied modules and 12.4% more with respect to the minimum.
Siliken, Innovation Experience
Siliken is an international company that focuses on developing solutions for the renewable energy industry, especially in the field of photovoltaic solar energy. Its activities range from the production of solar-grade silicon, the manufacture and distribution of equipment and components to promotion, maintenance and after-sales services related to PV installations. Siliken has module production plants in Spain, Rumania, Canada and Mexico and business offices located on five continents. Today, Siliken continues its international expansion, strengthening its position as a reference in the world of renewable energy.
For more information, please contact: press&media@siliken.com
Featured Product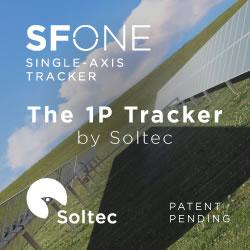 Soltec manufactures and supplies solar trackers designed and proven for extreme climate conditions, which is an ideal solution for any region's environment. Soltec's trackers are self-powered, requiring no additional PV module or grid-powered connection. Bifacial modules collect energy on both the front and rear sides, capturing reflected irradiance from the ground surface under and around the tracker and from other modules. Depending on site conditions, bifacial yield-gain can reach +30 percent.