New modular course concept teaches industry fundamentals and solar business and financial know-how; Sessions beginning April 20 and April 23 Cochran (Georgia)
April 12, 2012.—MAGE SOLAR ACADEMY, part of the globally operating MAGE GROUP, announced that it is offering two newly developed classes that will teach participants proven practices as well as essential technical know-how to successfully establish and maintain a business in the quickly expanding solar industry.

On April 20, "Solar Business and Technical Sales 201" will present an 8-hour overview over the basic aspects of selling and marketing PV-systems and services to customers. Attendees will understand how to engage effectively on technical and financial aspects at every point from planning to installing and maintaining systems. The course is registered for NABCEP Continuing Education Contact Hours and counts towards 8-credit hours of continuing education. Additional sessions are planned for August 24, September 20, and November 29.
The second part of the new MAGE SOLAR ACADEMY course series, "Solar Business and Technical Sales 202," will immediately follow on April 23 and expand in depth on the technical and business foundations presented in the entry-level module. This 40-hour class will run through April 27 and is a must for contractors, electricians, roofers and anyone interested in successfully selling solar PV-systems. Students will obtain knowledge about customer and site qualification processes, cost and site analysis, sales and marketing practices. Already experienced solar professionals can learn innovative sales techniques and financial analysis tools. Other course dates are June 25-20, August 27-31, and December 10-14.
"The Solar Business and Technical Sales course modules were developed to give PV-installers another tool for success in the industry," says Joe Thomas, President of MAGE SOLAR ACADEMY. "We strive to provide quality education and technical training for solar installers on every level—from hands-on installation courses, to marketing, sales, inspection classes, and many more. Making reliable business practices available to students is the best way to ensure a thriving and steady economic growth for solar professionals."
Registration for the courses has started and will be open until filled (class sizes are limited to ensure maximum learning outcomes). Interested students should download application materials today at: MAGE SOLAR ACADEMY, email msa@magesolar.com or call +1 (877) 311-6243 for more information.
MAGE SOLAR ACADEMY
MAGE SOLAR ACADEMY, located at the American corporate campus of MAGE SOLAR in Dublin, Georgia, is a premier educational arena for professionals of all levels and occupations in the expanding PV-market. A subsidiary of the international MAGE SOLAR GROUP, the academy boasts over 10,000 sqf of state-of-the-art educational technology, indoor/ outdoor training and simulation areas.
www.magesolaracademy.com
MAGE SOLAR – The Sun on Your Side
MAGE SOLAR USA, headquartered in Dublin, Georgia, specializes in complete solar systems and provides high-quality photovoltaic modules, intelligent mounting systems and high-performance brand inverters. As a subsidiary of the international MAGE GROUP, it uses the Group's 40 years of know-how to develop optimally coordinated system solutions. A competent partner network guarantees profitable solar energy systems for customers throughout the Americas and in fourteen more countries in Europe, Asia, Africa, and Australia.
www.magesolar.com
www.facebook.com/magesolar
www.twitter.com/mage_solar
Featured Product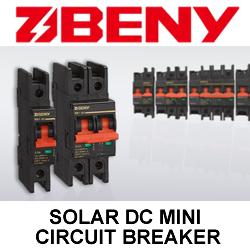 The BB1-63 modular miniature circuit-breakers can be used in solar DC circuits up to 1200 VDC (4-poles execution). Application in solar DC circuits, battery energy storage systems and UPS. Arc flash barrier design keeps solar equipment more safe and reliable. For DC circuit over-current protection.