The wind industry, and Danotek in particular, seeks a long-term extension of the PTC at full value to ensure consistency and market certainty
CANTON, MI (Monday April 16, 2012) — Danotek, a leader in the development and manufacture of highly efficient and reliable permanent magnet (PM) generators and power converter systems for the global wind energy market, hosted Senator Carl Levin, along with Rob Gramlich, Senior VP of Public Policy of AWEA (American Wind Energy Association) this past week at the Danotek office and manufacturing facility for a tour and discussion on how they may support Danotek's growth and initiatives along with an extension to the PTC.

The wind industry, and Danotek in particular, seeks a long-term extension of the PTC at full value to ensure consistency and market certainty. While the industry was fortunate to gain short-term extensions in the past, these shorter time periods create uncertainty and a "boom-and-bust" cycle of short-term planning, near annual job layoffs and higher cost projects. Without a long-term policy, manufacturers are discouraged from investing in, and expanding, manufacturing facilities in the U.S. Long term tax policies, lasting more than a few years would also provide consistency and market certainty.
Senator Levin commented, "I want to stress the importance of tax credits in green energy's future in America and the world. Companies like Danotek can be suppliers in this global effort, and if we don't support them, we are going to lose an awful lot of great jobs in Michigan. Danotek's got some great innovators and good investors, but it also needs some good public support. That's what we're going to work on in Washington."
We are urging Congress to pass legislation that provides a long-term extension of the PTC this year. Combined with a growing number of states that have adopted renewable electricity standards, the PTC has been a major driver of wind power development over the past six years. Installing more wind power would foster rural economic development, job creation, and energy price.
"It is inspiring to see the innovations taking place at companies like Danotek, one of a number of Michigan companies producing components of modern wind turbines. Michigan alone has at least 34 wind energy related manufacturing facilities serving this growing market. With continued support from Congress in the form of an extension of the Production Tax Credit, we can maintain and expand this growth." Senior VP of Public Policy of AWEA, Rob Gramlich commented.
Under federal law, the PTC provides an income tax credit of 2.2 cents per kilowatt-hour for the production of electricity from utility-scale turbines. This incentive was created under the Energy Policy Act of 1992. The PTC applies for the first 10 years of electricity production, and it is set to expire on December 31, 2012.
Contact:
Sarah Zajas, Marketing Manager, 734.426.5976, szajas@danotekmotion.com
About Danotek Motion Technologies
Danotek Motion Technologies develops and manufactures highly efficient energy conversion systems for the wind energy and industrial markets. Danotek has patents pending on several innovative products, including permanent magnet (PM) generators and power electronics for wind turbines as well as variably speed propulsion and accessory drives for the electric and hybrid electric vehicle markets. The company is based in Canton, MI.
Featured Product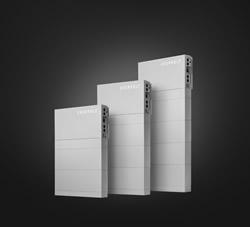 Renewable energy stored in an EVERVOLT home battery system is the perfect backup plan against an uncertain utility grid and weather events. Run key appliances longer and live life when the unexpected happens. EVERVOLT battery storage systems are covered by a complete 12-year warranty from Panasonic.