Third Annual Expo May 11-13, Timonium Fairgrounds, Maryland
The Third Annual Solar & Wind Expo Mid-Atlantic will begin with a fascinating look into the present and future of alternative fuel vehicles – from cars to bicycles – on opening day, Friday, May 11, at noon, with a keynote address by MotorWeek host John Davis.

MotorWeek was one of the first mainstream media outlets to provide regular coverage of advances in green motoring technologies and the use of alternative fuels. With uncertain fuel prices, MotorWeek continues to give viewers a front row seat as automakers seek to strike a balance between giving car buyers the performance they desire and the fuel economy they demand. It's said, "They don't build them like they used to," and that's never been more true than right now!
After his talk, Davis will be joined by a panel of experts to discuss all types of alternative fuel vehicles – from plug-in cars to electric bicycles.
As the Emmy® Award-winning host, executive producer and creator of MotorWeek, television's longest running automotive series, John Davis is seen by millions of viewers on PBS, Velocity and V-me Spanish-language network. One of the most trusted and recognized automotive journalists in the nation, Davis has been featured on CNN, Weekend Today, Live with Regis and Kelly, PARADE magazine and The Baltimore Sun, as well as local media throughout the country. He has also written regularly on automotive industry topics for The Washington Post and is a frequent radio guest on WBAL-AM and 98Rock in Baltimore.
More than three decades after its debut on public television in 1981, MotorWeek remains the leading source of unbiased information on automotive safety, fuel efficiency and in-depth car and truck reviews. Davis oversees all editorial content, and steers the series' increasingly high profile efforts in covering green motoring technologies and the use of alternative fuels.
In addition to information about alternative fuel vehicles, The Solar & wind Expo will bring consumers together with national and local companies that supply all types of renewable energy products and related businesses. The Solar & Wind Expo is the premier event for those who are looking to conserve energy and integrate renewable technologies such as solar, wind and geothermal energies, both for financial reasons and for reducing their carbon footprint.
A series of free consumer-oriented seminars will be offered at The Solar & Wind Expo in addition to professional introductory courses for those who want to enter this growing field.
The Solar & Wind Expo is the place to learn how to migrate and upgrade old systems to cleaner, more Earth friendly and renewable energy systems, thus helping to make green a reality.
The Solar & Wind Expo also has launched an interactive website chock full of information to help consumers make decisions about all forms of renewable energy: solarandwindliving.com.
Tickets to the Expo: Adults $12 (or $10 online, coming soon); Children under 12 admitted free. Discounts will be available online. Hours are: Friday, 10 a.m. to 6 p.m. and Saturday - Sunday, 10 a.m. to 6 p.m. Moms will be admitted free on Sunday, May 13, Mother's Day.
Featured Product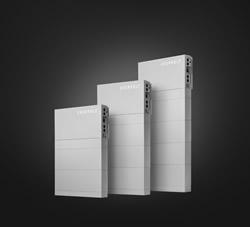 Renewable energy stored in an EVERVOLT home battery system is the perfect backup plan against an uncertain utility grid and weather events. Run key appliances longer and live life when the unexpected happens. EVERVOLT battery storage systems are covered by a complete 12-year warranty from Panasonic.