Schletter announces the launch of a summer truck tour, getting solar products in the hands of installers and offering a NABCEP continuing education credit
April 19, 2012 Tucson, AZ ó Schletter Inc., a leader in solar mounting systems, announced a program beginning this month which will get solar mounting products in the hands of installers across America and offer NABCEP continuing education credits. This "Truckathon" tour begins in San Antonio, Texas on April 21, 2012.

The company is working with a variety of electrical supply, module, inverter manufacturers, and community colleges throughout the United States in order to present a diverse product mix. The initial launch of the tour takes place at San Antonio's Earth Day celebration at Woodlawn Lake Park. Further stops in Texas include ImagineSolar in Austin on April 26 and Ontility in Houston on April 27th with more stops scheduled around the country through July.
Additional information on the Truckathon, including a national schedule, can be found on-line at http://www.schletter.us/event-truckathon-2012.html.
About Schletter Inc.
Schletter (www.schletter.us) has designed, developed, and manufactured solar mounting products in the U.S. since 2008, while backed with more than 19 years of solar mounting experience from Schletter GmbH. Since opening its United States facility in Tucson, Arizona Schletter Inc has manufactured more than 500 MW of installed PV mounting systems. Schletter Inc. offers products for roof mount and ground mount systems for residential, commercial, and utility scale photovoltaic systems. Schletter Inc. is an independent subsidiary of Schletter GmbH, which operates subsidiaries in eleven countries with more than 1,800 employees worldwide. For more information on Schletter GmbH, please visit www.schletter.de.
Featured Product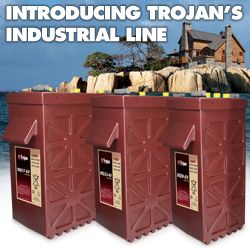 Trojan's deep-cycle batteries provide rugged durability, outstanding performance and long life for use in all types of solar energy installations. With over 90 years of experience, Trojan delivers the world's most reliable and trusted batteries in flooded, AGM, Gel, and Lithium types. These batteries enable solar equipment systems to operate at a peak level of performance in the harshest conditions or the most challenging of locations and are manufactured and tested to IEC standards.