TRA-Mage, Inc., manufacturer of solar panel mounting products, now offers adjustable Solar Tile Mounts for tile roofs which maintain the integrity of the tile while decreasing labor and saving time and money.
American Fork, UT April 25, 2012

TRA-Mage, Inc. of American Fork, Utah has introduced a new method of attaching solar panels to tile roofs - the Solar Tile Mount.
The Solar Tile Mount was designed to secure PV panels to the rook deck without replacing or penetrating the tile. This is made possible because of the unique adjustability of TRA-Mage's Solar Tile Mount which provides:
Three different heights- which make installation easy on any tile roof system -direct mount, horizontal batten, and elevated batten designs.
Adjustable placement - Solar panels must be fastened to structural members such as rafters, trusses or purlins, etc. and usually the tile pan does not line up in the correct location. The Tile Mount can adjust up to six inches left or right providing the versatility needed for products with large pans like an S-tile.
Typically, to attach solar panels, the integrator drills a hole in the tile, risking tile breakage and producing cement dust which is a breathing risk, and regulated in some states. The installer then has to install a flashing on top of and below the tile. Since the Solar Tile Mount is adjustable, the integrator can save 30 minutes on each attachment, avoid making a hole in the roofing and save money on expensive flashings.
Ian Sanfilippo of Galkos Construction of Huntington Beach, California has tested the new Tile Mounts. Ian reports why TRA-Mage's Tile Mounts are superior to the old method they formerly used, "We really love the TRA-Mage Tile Mounts. They are made out of high quality material [extruded aluminum]. They divert the mount around the tile instead of going directly through the tile, which decreases install time, and doesn't compromise the strength or coverage of the customer's tile. The wide base of the hook makes the mount very easy to adjust."
TRA-Mage's President, Terry Anderson says, "We began manufacturing Solar Tile Mounts because the current products did not maintain the integrity of the tile and allow the adjustability needed for all tile profiles. Our mounts do exactly that."
The Solar Tile Mount has also been engineered and tested to withstand wind uplift, providing an additional benefit. TRA-Mage's Solar Tile Mounts are the solution to attaching a solar panel mounting system to a tile roof without penetrating the tile, and save time and money.
TRA-Mage, Inc., located in American Fork, Utah, offers Roof Snow Retention Devices, Solar Racking Systems and Roof Flashing Solutions. They provide free engineered designs to all customers, from the homeowner to the developer. For more information call David Peterson at TRA-Mage at 800-606-8980 or visit sun.tra-mage.com
Featured Product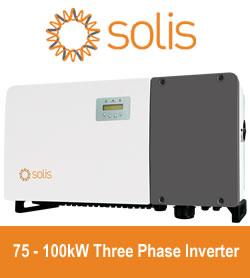 Solis75kW - 100kW series high-power string inverters are widely used in industrial and commercial rooftops. Solis's new three-phase string inverter is the first choice for industrial and commercial photovoltaics. 75-100kW three phase series string inverter have Maximum 28 strings input, support "Y" type connection in DC side. Maximum string input current 13A, support bifacial modules access.Supports anti-PID function to improve system efficiency.