TSI's Solar Innovation Grant program has created a stronger, more competitive solar value chain in Tennessee
KNOXVILLE – The Tennessee Solar Institute's (TSI) director of programs, John Sanseverino, Ph.D, released the following statement on the impact of the Solar Innovation Grant Program at the 42nd Annual Environmental Show of the South, sponsored by the Tennessee Department of Environment and Conservation today:

"The Tennessee Solar Institute's Solar Innovation Grant program facilitated the growth of 35 companies in Tennessee's solar supply chain through 80 grant awards--giving Tennessee a competitive edge in the $137 billion global, solar market.
The Innovation Grant program facilitated such success stories as: bringing jobs from Taiwan back to Upper East Tennessee for Diversified Power International in Piney Flats, supporting innovate process improvements in solar installations that have decreased the cost of installing solar energy for Soltility in Spring Hill and Friendsville and CaraSol Energy, a start-up company in Knoxville, established a production facility and with a new design in hand, is manufacturing solar thermal panels made possible with TSI grants.
In addition to start-ups, well-established solar companies in Tennessee have taken advantage of TSI grants. These grants have allowed companies like Sharp Manufacturing Company of America, Shoals Technologies Group, and AGC Flat Glass to embark on energy efficiency upgrades and worker training.
More than $13.4 million in private dollars have been leveraged from the Solar Innovation Grant program, and it's logged more than 80,000 job hours.
TSI's Solar Innovation Grant program has created a stronger, more competitive solar value chain in Tennessee. A value chain that includes 180 for profit companies and employs over 6,400 Tennesseans in solar and solar related industries."
The Tennessee Solar Institute was launched in 2010 as part of the State of Tennessee's Volunteer State Solar Initiative--a comprehensive solar energy and economic development program that focuses on job creation, education, renewable power production, and technology commercialization efforts. TSI's grant programs have leveraged more than $40.3 million in private investments, with a total cumulative benefit to the state's economy in excess of $63.8 million. For more information visit: http://solar.tennessee.edu/
Featured Product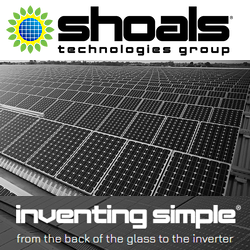 Inventing Simple® isn't just a slogan to us, it's a way of life. Using simple plug-and-play ideology, we revolutionized solar installations in 2003 with our Interconnect System™. Our harnessing system is now the gold standard EPC's use around the world. By using simple ideas, we are making solar energy a more affordable and clean power source for future generations.