By combining top floor residential units with a ground floor commercial space, the duo were able to maximize the use of a rooftop photovoltaic system that can produce more than enough energy for the entire complex.
Midland, MI — April 25, 2012

As part of its commitment to support education and innovations that will help solve the world's challenges, The Dow Solar Design to Zero Competition provided an innovative, interactive and collaborative team competition among undergrad and graduate students from around the world.
Congratulations to the Live/Work team of Eric Laine and Suzanne Steelman from Clemson University's Graduate School of Architecture for their first place finish, earning them the top $20,000 prize.
By combining top floor residential units with a ground floor commercial space, the duo were able to maximize the use of a rooftop photovoltaic system that can produce more than enough energy for the entire complex.
Team Live/Work Team Live/Work
The winning entry from Team Live/Work was noted for its ability to demonstrate a sustainable energy system that embraces its urban surroundings both architecturally and economically
This forward-thinking solution consisted of three separate units designed for families of two, four and six people. Each unite features a commercial space on the street level that can be owned and operated by the family living above or rented out for extra income.
The environmentally friendly units are topped off with a large PV system that can generate more than enough power for the commercial space below and the apartments above, making it a net plus project. Rainwater is collected off the roof and stored in underground cisterns for use in the buildings and for landscaping. Living walls provide shade during summer, but shed leaves in the winter to let in more light.
Team Project Zero took second place and the $10,000 prize for their elegant building ensemble that pays homage to great 20th century modernism. Daniel Kim and Caitlin Ranson, also from Clemson University's Graduate School of Architecture, designed a structure that's comprised of concrete masonry units, providing superior compressive strength, fire resistance, low maintenance and energy efficiency.
The Project Zero Home
The Project Zero home incorporates multiple zones that decrease the cost and the energy footprint while always keeping an eye on design.
Yet the structural benefits are only the start. Many traditional spaces like dining rooms, corridors and hallways were avoided to encourage a higher level of family interaction. The minimalism of the overall design did take into consideration separate sectional divisions, special zones and many overhangs for a special and compelling experience that visually connects the indoors and outdoors. This design also helps in the natural induction of light and ventilation to reduce the dwellings overall carbon footprint.
Winning third place and creating a lot of buzz was team Silo House who incorporated an abandoned oil silo as a shell for the house. Designers Leon Lai and Eric Tan recycled the oil industries' infrastructure for this project to provide a statement on sustainability, not just aesthetically but also through its engineering. The designers worked out all the technical and sociological details to make this a great example of energy efficient designs for the future.
Team Silo House
Team Silo envisions recycling obsolete structures (oil silos) and transforming them into entire self-sustaining, clean-energy generating communities.
"Working with all the fervent and exceedingly gifted general students via this contest has been incredibly rewarding and an extraordinary learning experience for me," said Peter Anders of Kayvala Consulting and Dow Solar Design to Zero advisor "These are the architects and engineers of tomorrow and it has been a great experience using Dow Solar to see these ideas for our future unfold."
About Dow
Dow (NYSE: DOW) combines the power of science and technology to passionately innovate what is essential to human progress. The Company connects chemistry and innovation with the principles of sustainability to help address many of the world's most challenging problems such as the need for clean water, renewable energy generation and conservation, and increasing agricultural productivity. Dow's diversified industry-leading portfolio of specialty chemical, advanced materials, agrosciences and plastics businesses delivers a broad range of technology-based products and solutions to customers in approximately 160 countries and in high growth sectors such as electronics, water, energy, coatings and agriculture. In 2011, Dow had annual sales of $60 billion and employed approximately 52,000 people worldwide. The Company's more than 5,000 products are manufactured at 197 sites in 36 countries across the globe. References to "Dow" or the "Company" mean The Dow Chemical Company and its consolidated subsidiaries unless otherwise expressly noted. More information about Dow can be found at www.dow.com.
About Dow™ POWERHOUSE™
The DOW POWERHOUSE™ Solar Shingle is a first-of-its kind product, designed to combine the benefits of solar technology with the durability and performance of traditional roofing materials. POWERHOUSE™ has been developed to introduce solar technology to a new generation of homeowners by providing an unprecedented integrated roof appearance and simplified installation. It combines a roofing shingle with a solar cell, enabling the DOW POWERHOUSE™ Solar Shingle to be installed by a roofer along with standard asphalt roofing materials. This makes the DOW POWERHOUSE™ Solar Shingle an easy choice for homeowners looking for a residential solar solution that is easy to install and aesthetically pleasing. Building Integrated Photovoltaic (BIPV) products from Dow Solar are one of the many innovations from Dow establishing the Company on the forefront of alternative energy solutions and expanding Dow's commitment to using chemistry to solve the world's energy challenges. More information about Dow Solar can be found at www.dowsolar.com. Homeowners and building professionals can also follow Dow Solar on Facebook (www.facebook.com/DowSolar) and Twitter (@DowSolar) or via YouTube.
Featured Product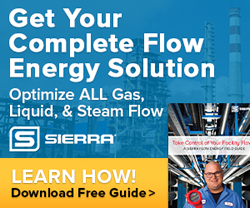 Download Flow Energy Guide - Written by Engineers For Engineers. Learn how to save on energy costs by optimizing your facility flows that impact costs like compressed air, natural gas, steam, and hot or chilled water.