The recent announcement of the Environmental Protection Agency's proposed new carbon emission standard for future coal-fired power stations has given the CSP industry yet another huge boost in the fight for an established place in the US energy market, through the use of hybrid CSP plants.
This is just one example of the new opportunities this innovative industry is able to take advantage of in the United States, and the industry is prepared to do so with enthusiasm.

The last month saw the industry leap ahead in the race towards real cost-reduction through the Sunshot Initiative. This has provided $50-$60 million in funding to 35-40 entities engaged in various aspects of CSP-related research or development initiatives. With half a GW of electricity generation from CSP and a further 1.3 GW due to come online in the next few years, this race for cost reduction is crucial for the US industry. Developers must to take advantage of legislation like the EPAs and communicate CSP's real competitive advantage to claim a bigger stake in the energy mix.
With this in mind, CSP Today USA is preparing to take the industry by storm, with 600 industry professionals coming under one roof on 27-28 June to put together a strategy that will guarantee explosive growth in the next year. This week, CSP Today have released a sample of the delegates who are already confirmed to meet for the conference, with an impressive list containing C-level representatives from companies including Solar Reserve, Abengoa Solar, Bechtel, CENER, Torresol, ACS Cobra, BrightSource Energy, Siemens, AREVA and ABB.
CSP Today USA 2012 is widely regarded as the place where figureheads from across the supply chain will discuss, debate and deliver the 5 year plan for the growth of the industry. Organisers have ensured that each session focuses on how to communicate CSP's competitive value to win a greater stake in the US energy mix. This year, the event has set out to be a 2 day strategy planning meeting focused on driving favourable CSP policy, proving CSP's viability to utilities and grid operators, sharing technological advancements to bridge the LCOE gap, understanding the status of current projects and paving the way for future developments.
With five projects currently under construction in the Southwest set to triple the amount of electricity being produced by CSP in the US, the timing of this strategic meeting could not be better. To book your place (and save $300 before the Early Bird discount runs out on Friday 4 May) visit www.csptoday.com/usa or email register@csptoday.com
Featured Product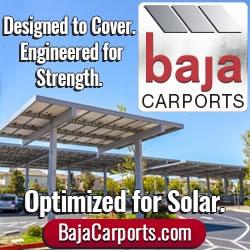 Baja Carports offers an extensive solar support system product line customized to customers' site specifications by in-house engineers, meeting their parking lot coverage, plus optimal PV production needs. Baja's Full Cantilever Tee is often paired with its Semi and Full Cantilever carports to meet live/loads up to 60psf and wind speeds to 160mph. All Baja products are pre-fabricated, bolted connections, pre-galvanized structural steel for fast on-site installation and project aesthetic requirements."