Electric Odyssey Tour Features Advanced Technologies for the Electrical Infrastructure----- Tour Strengthens GE's Customer Relationships by Bringing Products and Services Directly to Their Doorsteps----- Follow the Electric Odyssey Tour on Twitter and Facebook
PLAINVILLE, Conn. — May 1, 2012 — GE Energy's (NYSE: GE) Industrial Solutions business kicks off the Electric Odyssey Tour today with an employee event at its Plainville, Conn., headquarters. GE Energy's Electric Odyssey Tour is a six-month road show in the United States and Canada that highlights innovative product and service offerings from the Industrial Solutions business.

Attendees can experience the advanced Industrial Solutions technologies that touch all parts of the electrical infrastructure — including low- and medium-voltage switchgear, circuit breakers, transformers, arc flash mitigation products and lifecycle service solutions.
The tour will bring the latest industrial products, services and aftermarket solutions to GE's customers at more than 200 sites in some 80 cities across North America. From Plainville, the Electric Odyssey tour will head to North Carolina. In June, the tour will visit customers in Canada before returning to the U.S.
"The Electric Odyssey Tour is a great way for us to bring our products and services directly to our customers' facilities, where they can see, touch and experience them firsthand," said Luis Ramírez, CEO, GE Energy's Industrial Solutions business. "Every product and service showcased in the tour is backed by the strong reputation of the GE brand. It stands for our commitment to provide service support, local resources and industry-specific expertise to customers whenever and wherever they need it. Working with customers to identify their reliability, protection and efficiency issues, we deliver end-to-end electrical infrastructure solutions that address these challenges."
GE's Electric Odyssey Tour is outfitted with two dedicated iPads® for attendees to tweet about their experiences using the #GEOdyssey2012 hash tag. Everyone can follow the tour on Twitter @GEindustrial and on Facebook. A Facebook Fan of the Month will be chosen based on likes and posts, and the winners will receive a prize.
GE Energy's Industrial Solutions business is leading the future of electrification with advanced technologies that distribute, protect and control. The business provides customers across various industries with end-to-end product and service solutions that ensure reliability and protection of the electrical infrastructure; from the power station to the end point and all the sustainable power technologies in between.
About GE
GE (NYSE: GE) works on things that matter. The best people and the best technologies taking on the toughest challenges. Finding solutions in energy, health and home, transportation and finance. Building, powering, moving and curing the world. Not just imagining. Doing. GE works. For more information, visit the company's website at www.ge.com.
GE Energy works connecting people and ideas everywhere to create advanced technologies for powering a cleaner, more productive world. With more than 100,000 employees in over 100 countries, our diverse portfolio of product and service solutions and deep industry expertise help our customers solve their challenges locally. We serve the energy sector with technologies in such areas as natural gas, oil, coal and nuclear energy; wind, solar, biogas and water processing; energy management; and grid modernization. We also offer integrated solutions to serve energy- and water-intensive industries such as mining, metals, marine, petrochemical, food & beverage and unconventional fuels.
Featured Product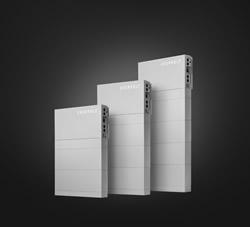 Renewable energy stored in an EVERVOLT home battery system is the perfect backup plan against an uncertain utility grid and weather events. Run key appliances longer and live life when the unexpected happens. EVERVOLT battery storage systems are covered by a complete 12-year warranty from Panasonic.