Industry leaders forecast strong renewable energy investment growth for the region in 2012
MIAMI--The second annual Renewable Energy Finance Forum (REFF) hosted by the Latin American Council on Renewable Energy (LAC-CORE), the American Council On Renewable Energy (ACORE), and Euromoney Energy Events in Miami this week brought together more than 200 policy makers, industry executives and investors to discuss the evolution of the renewable energy markets in Latin America and the Caribbean.

"The time for distributed generation in Latin America and the Caribbean has come"
REFF-LAC featured speakers from leading renewable energy companies, investment institutions and government organizations focused on renewable energy investments and transactions, infrastructure and country policies, and the future growth potential for the region. Delegates from more than 15 countries participated including Brazil, Panama, Mexico, Colombia, Guatemala, Costa Rica, Peru, Nicaragua, Chile, Argentina, and a host of the Caribbean nations, in addition to the U.S. and Europe.
Key highlights from REFF-LAC sessions included:
*Strong economic growth rates and high electricity costs will spur renewable energy development particularly with Latin America and the Caribbean's abundant natural resources
*Education is still needed throughout the region: Both financiers and the general public need more awareness and understanding to the benefits of renewable energy technologies
*Sustainable policies need to be implemented in order to create predictability for both developers and investors
*$9.4 billion was invested in Latin America's renewable energy market in 2011, with most funding going to its growing wind energy sector
"Renewable energy is one of the fastest growing industries in Latin America and the Caribbean," said LAC-CORE President Carlos St. James. "Events like REFF-LAC are excellent venues for networking and deal-generation, and create a better understanding of financing opportunities in the region."
"The delegates at REFF-LAC have built the business case for investment in renewable energy development, said keynote speaker and ACORE president Vice Admiral Dennis McGinn. "REFF-LAC is connecting people from Latin America and around the globe to learn about opportunities and drive renewable energy growth in the region."
"The time for distributed generation in Latin America and the Caribbean has come," said Pablo Reyes, LAC-CORE Board member and Director of the Center of Strategic Studies for Latin America (CEELAT).
Upcoming REFF conferences co-organized by ACORE and Euromoney Energy Events include REFF-Wall Street, taking place in New York City from June 19-20 and REFF-West in San Francisco, September 26-27.
To learn more about LAC-CORE and how to capitalize on regional opportunity, contact Taylor Marshall tmarshall@lac-core.org.
About ACORE:
ACORE, a 501(c)(3) non-profit membership organization, is dedicated to building a secure and prosperous America with clean, renewable energy. ACORE seeks to advance renewable energy through finance, policy, technology, and market development and is concentrating its member focus in 2012 on National Defense & Security, Power Generation & Infrastructure, and Transportation. Additional information is available at www.acore.org.
About LAC-CORE:
LAC-CORE is a membership-based organization dedicated to bringing renewable energy and energy efficiency to Latin America and the Caribbean. LAC-CORE seeks to establish renewable energy into the mainstream of the region by creating a network for stakeholders to connect, communicate, share information, and collaborate. Additional information is available at http://www.lac-core.org/.
About Euromoney Energy Events:
Euromoney Energy Events, part of Euromoney Institutional Investor PLC, is a leading international events company that organises high-profile conferences for clean energy professionals worldwide. Our diverse portfolio of events brings together senior delegates from the renewable energy and cleantech industries with investors, financiers and other professionals. The Renewable Energy Finance Forum (REFF) series was launched in 1999 in London, and has since grown into a portfolio of internationally renowned events that take place annually in seven cities spanning Europe, the US, Asia and Latin America. These include REFF Wall Street (New York), REFF London (London), REFF West (San Francisco) and REFF Canada (Toronto). Additional information is available at www.euromoneyenergy.com.
Featured Product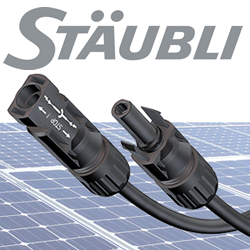 ​Stäubli Electrical Connectors are used on more than 300 GW, over 50% of the PV capacity worldwide. The MC4 family of UL and TUV listed products include connectors, in-line fuses, branch connectors, cable assembly and more.