Central planning directs exports, capacity, consolidation, 'national champions'
Washington, D.C., May 2, 2012 – In addition to an array of illegal subsidies that have enabled China's state-sponsored solar industry to seize more than half of U.S. and world market share at the expense of U.S. companies and jobs, the government of China recently issued a new Five-Year Plan for solar that provides for even greater government control and support of its industry, according to an analysis commissioned by the Coalition for American Solar Manufacturing (CASM).

The plan to fuel China's export-intensive solar-industry campaign calls for a number of government initiatives, including new policy, financial and price subsidies; more support in industry, financial and tax policy; and further aid with development and production of equipment used to produce polysilicon, silicon ingots, wafers, cells and panels within the crystalline-silicon solar industry. Moreover, the portfolio includes plans to support industrialization of China's as-yet-undeveloped thin-film industry, specifically harnessing silicon and copper indium gallium diselenide solar technologies.
The analysis by Wiley Rein LLP in Washington, D.C., focused on China's 12th Five-Year Plan for the Solar Photovoltaic Industry, issued in February 2012 to expand on China's broader 12th Five-Year Plan for National Economic and Social Development. Wiley Rein is representing CASM, a coalition of more than 190 employers representing over 16,000 Americans, in advancing trade cases against the Chinese solar manufacturing industry. In a partial preliminary determination in March, the Department of Commerce announced that at least 10 categories of Chinese subsidies for its producers of solar cells and panels were illegal.
"These plans significantly increase the government's control over the development of the solar industry, permitting the government to manage virtually every aspect of the industry," the analysis says. "Substantial government assistance is also mandated to carry out the goals identified in these plans."
As in previous iterations, the plans designate solar among seven "strategic emerging industries" that warrant massive government support, preferential treatment and tight control, according to the analysis. News reports put total subsidies for all seven industries at $1.5 trillion. The recently published solar plan, which covers the period through 2015, reflects the Chinese government's resolve to ensure the industry's continued rapid development by directly managing its planning, policy and growth.
Furthermore, according to the analysis, the solar Five-Year Plan calls for the Chinese industry's continued global expansion and "internationalization" in keeping with China's "Going Abroad" strategy.
China has amassed production capacity that is 32 times greater than domestic demand, resulting in about 95 percent of Chinese solar production being exported overseas. CASM contends that China's illegal subsidization of its export drive has enabled its industry to dump product in the U.S. market and unfairly capture market share since 2008. During the same period, the number of China's solar manufacturers listed among the world's 10 largest has rocketed from just one to seven in 2011. Meanwhile, at least 12 crystalline silicon U.S. manufacturers have shuttered plants, declared bankruptcy or staged layoffs.
Significantly, the National Renewable Energy Laboratory has concluded that Chinese producers face a cost disadvantage in producing and delivering solar technology to the U.S. market, compared with domestic producers.
China's new Five-Year Plan provides even greater support for exports than previous government plans that delivered more than half of world industry market share to the Chinese industry, according to the analysis. The 2011-2015 plan calls for the consolidation of "the industry's position in the international market," partly by identifying and promoting "national champions," so that "Chinese PV enterprises' international influence will be greatly enhanced" and be better able "to cope with international competition and market risks."
Aside from the more than 30 Chinese subsidy programs that CASM has identified as illegal, including the 10 that the Department of Commerce has preliminarily sanctioned, the new 12th Five-Year Plan for the Solar Photovoltaic Industry unveils a host of new government initiatives to continue to fuel China's export campaign, according to the Wiley Rein analysis. Indeed, the plan covers virtually every detail of every phase of industrial development, including:
* Where new industrial siting should take place;
* Precise levels for environmental performance improvement; and
* Precise standards for cost and power-conversion efficiency improvement.
"The Chinese government launched a trade war against the U.S. domestic industry, took over the leadership of the largest American industry trade association and began driving U.S. solar manufacturing pioneers out of business," said Gordon Brinser, president of SolarWorld Industries America Inc., the largest U.S. solar manufacturer for more than 35 years.
"Our coalition of U.S. producers contested the illegal Chinese governmental interference in the U.S. market and sought enforcement of U.S. and international trade law. In response, China has rolled out a host of initiatives to further manipulate pricing, snuff out competition and solidify its domination – all on foreign soil. Needless to say, China allows no foreign competition on its own soil."
"China is steamrolling American manufacturing and jobs and breaking its trade commitments in plain sight," Brinser said. "No wonder the American public has grown increasingly anxious about the state of U.S.-China trade. China is scoffing at international trade rules."
In the first major ruling in the trade cases, the U.S. International Trade Commission issued a unanimous preliminary ruling on December 2, that Chinese trade practices are harming the U.S. domestic solar industry. On May 17, the Department of Commerce is expected to announce the extent to which Chinese manufacturers have illegally dumped products in the U.S. market.
Featured Product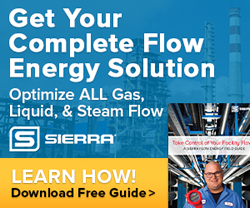 Download Flow Energy Guide - Written by Engineers For Engineers. Learn how to save on energy costs by optimizing your facility flows that impact costs like compressed air, natural gas, steam, and hot or chilled water.