UltraGTS Modern Treatment of GreyWater GreyWater Systems Grey Water Systems Grey Water System GreyWater System Grey Water Reuse Grey Water Tank Grey Water Filtration Grey Water Reuse Use Recycling Sysytems Grey Water.
Grey Water Treatment System Australia -http://www.ultragts.com.au/grey-water.html

Ultragts is modern state of the art Grey Water Treatment, Grey Water Filtration, Grey Water Recycling Systems, Grey Water Tank, Grey Water Recycling Systems, Grey Water Recycling System, Grey Water Reuse, Grey Water Use, Wastewater Australia, Grey Water Treatment, Grey water, Grey Water Systems, Grey Water Systems, Grey Water System, Grey Water System, Gray Water Systems
The ultraGTS is a state of the art Greywater Treatment System employing the latest in Membrane Technology and UV Disinfection. Don't waste it… recycle it! The availability of water in suitable quantities is an essential part of a civilized way of life and with erratic weather patterns and intermittent rainfall; Grey water recycling is far more efficient than relying on rainfall. Grey water represents 70 to 80% of the water generated by your household so it makes sense to recycle this scarce and precious resource. The ultraGTS is a modern state of the art Grey water Treatment System which has undergone rigorous testing by Authorities and far exceeded all water quality standards. Getting advice on Grey water has generally been as grey as the water itself. Most questions are answered with "I'm not sure" or "I'll try and find out" and the best one "the plumber will know". If this all sounds familiar then you have come to the right place. Wastewater is what we do and Grey water is a major part of the Wastewater World. The most important aspect of being able to re-use or treat your Grey water is being able to access it. That is why at Wastewater Australia we have developed the concept of "Grey water Ready".
Having over 20 years of National & International experience in the wastewater industry we are well equipped to provide you with all of the answers to your Grey water harvesting needs and will recommend the appropriate solutions.OR Call us 1300 856 237
More information can be found online at http://www.ultragts.com.au/greywater-recycling-system.html
Featured Product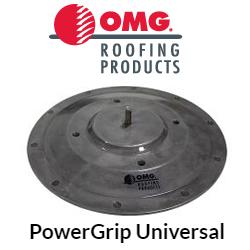 PowerGrip Plus Roof Mount System, a watertight structural attachment system used to secure ballasted solar racks and other equipment to roofs covered with thermoplastic (TPO and PVC) membranes. PowerGrip Plus is designed with wind performance in mind and offers ultimate tensile strength of 2,000 lbf. and ultimate shear strength of 1,075 lbf. Properly installed PowerGrip Plus units reduce rack movement and remaining watertight. PowerGrip Plus units are easy to install, saving both time and labor when compared to alternative options. A wide membrane skirt promotes easy welding in place, and the 15/8 diameter and 1/2 inch tall mount provides an optimal perch for securing brackets or struts. The exposed 1 inch tall and 3/8 inch diameter bolt and mounting stand are made from corrosion-resistant stainless steel and aluminum alloy for superior long-term performance.