This contract fits within the group's strategy of developing services for electrical engines and power generators
Mersen has developed expertise which reduces the downtime of rolling stock. This expertise proved

decisive: with 400km of track and 270 stations in London to manage, London Underground must
accelerate the pace of engine overhaul while conducting its maintenance operations solely during the
night shift, in order to ensure irreproachable service during the Olympic Games which will run from 27 July
to 12 August.
This contract fits within the group's strategy of developing services for electrical engines and power
generators – a strategy that Mersen has already rolled out successfully in the wind power industry in
North America. Thanks to this approach, Mersen is able to highlight its expertise to its customers and to
offer a comprehensive range of products.
About Mersen
Global expert in materials and solutions for extreme environments as well as in the safety and
reliability of electrical equipment, Mersen designs innovative solutions to address its clients'
specific needs to enable them to optimize their manufacturing process in sectors such as energy,
transportation, electronics, chemical, pharmaceutical and process industries.
Featured Product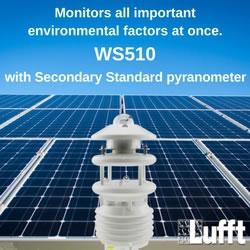 First and only Smart Weather Sensor with integrated Kipp & Zonen CMP10 Pyranometer (secondary standard). From the WS product family of professional intelligent measurement transducers with digital interface for environmental applications. Integrated design with ventilated radiation protection for measuring: Air temperature, relative humidity, air pressure, wind direction, wind speed and radiation. One external temperature or rain sensor is connectable.