Lawrenceville School's array is among largest installed at a U.S. school
HILLSBORO, ORE., May 4, 2012 – The bucolic campus of the Lawrenceville School, a centuries-old boarding school in Lawrenceville, N.J., is home to 6.1 megawatts of high-performance solar panels from SolarWorld, the largest U.S. solar manufacturer for more than 35 years. The sprawling photovoltaic system, ground-mounted on 30 acres of school-owned farm land, is believed to be the largest installed at a U.S. primary or secondary school. It will generate enough electricity to offset 90 percent of the high school's annual power needs and provide a centerpiece to the school's holistic approach to environmental stewardship.

The system features 24,934 SolarWorld solar panels, manufactured at the company's U.S. headquarters in Hillsboro, Ore., and mounted on single-axis trackers to maximize energy production. The array is designed to produce approximately 9,264,000 kilowatt hours of solar electricity each year, enough to power the equivalent of more than 800 typical American homes, and to offset 6,388 metric tons of carbon dioxide emissions annually, the equivalent of taking 1,253 cars off the road. The Lawrenceville School solar farm is also home to nearly 900,000 resident honey bees, nourished by a special wildflower mixture planted among and around the solar panels.
The project was developed by TurtleEnergy of Linden, N.J., (formerly a subsidiary of Turtle and Hughes, Inc.). It was purchased in 2011 by KDC Solar of Bedminster, N.J., which completed the development and constructed the project. KDC Solar leased the land for the project from the school and owns and maintains all of the solar equipment. Through a power purchase agreement, the Lawrenceville School will buy electricity produced by the array over the next two decades.
"A solar installation of this magnitude serves as an inspirational reminder to the Lawrenceville School's students and the surrounding community that we have the technology and ingenuity to solve our planet's most pressing environmental challenges," said Kevin Kilkelly, president of SolarWorld Americas. "By securing the school's energy rates for years to come, the system represents a sound financial investment as well."
Today, Lawrenceville students, alumni, faculty and staff celebrate the system's completion with a dedication ceremony and tour. The solar farm is a pivotal element of the school's Green Campus Initiative, a holistic approach to sustainability that focuses on campus energy, materials, land and water use, applying methods that promote ecological literacy and involve the community outside of the school.
"The Lawrenceville School has become a national leader among secondary schools for its commitment to sustainability. We also look forward to the many learning opportunities the Solar Farm will provide to our students and the local community," said Head Master Liz Duffy. "The School community will have access to a wealth of real-time monitoring information ranging from where the panels are currently positioned, to how much power is being generated, to how much energy a specific campus building is using, and much more. I am excited about the creative ways our teachers and students will use that data to help build a healthier, more sustainable world for future generations," she said.
A high-resolution photo is available on the SolarWorld website.
About SolarWorld (www.SolarWorld.com)
SolarWorld (ISIN: DE0005108401) is a worldwide leader in offering brand-name, high-quality, crystalline silicon solar-power technology. The company's strength is its fully integrated solar production. From silicon as the raw material through wafers, cells and panels all the way to turn-key solar systems of all sizes, the group combines all stages of the solar value chain. The central business activity is selling high-quality panels into the installation and distribution trades and wafers to the international solar cell industry. Group headquarters are located in Bonn, Germany, with sales sites in Singapore, South Africa, Spain, France as well as in the U.S. state of California. The group's largest production facilities operate in Freiberg, Germany, and Hillsboro in the U.S. state of Oregon. Sustainability is the basis of the group strategy. Under the name Solar2World, the group supports community aid projects using off-grid solar-power solutions in developing countries, exemplifying sustainable economic development. Worldwide, SolarWorld employs about 3,300 people. SolarWorld AG has been quoted on the stock exchange since 1999 and today is listed on, among others, the TecDAX and ÖkoDAX as well as in the sustainability index NAI.
About The Lawrenceville School (www.lawrenceville.org)
Founded in 1810, The Lawrenceville School offers a comprehensive, coeducational program for more than 800 students, grades nine through post-graduate, who come from 29 states and 35 countries. The School is located on 700 acres in the historic village of Lawrenceville, N.J.
Featured Product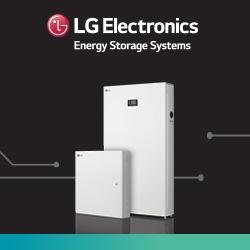 Meet LG Electronics Home 8 Energy Storage System (ESS), a whole home battery backup solution built with installers and their homeowner customers in mind. The ready-to-deploy Home 8 features just one SKU and a modular assembly for fast installation. It can be AC-coupled or solar-powered and is engineered with a grid-connected inverter, four battery modules, and a Smart Energy Box featuring a 7'' LCD touchscreen with commissioning wizard for easy setup. Each Home 8 unit can store up to 14.4 kWh of usable power, helping homeowners gain pure independence from the grid. Plus, installers can connect up to four units, bringing customers up to 57.6 kWh of total backup power-all easily managed and monitored through intuitive mobile apps.