San Diego Solar Energy Company Contests Utilities to Ensure Renewable Energy Growth
SAN DIEGO, CA (May 7, 2012) – The solar energy industry has come together to dispute the investor owned utility companies' efforts to destabilize the net metering law. This law, effective in its current form since 1998, has enabled over 100,000 solar power systems to be connected to the grid. Various entities, including schools, businesses, water districts, and homeowners receive fair credit for the electricity their solar power systems provide to the grid through net-metering.

However, the investor owned utilities have refused to adhere to the current net-metering statues and are refuting a Public Utilities Proposed Decision which would require them to comply with the legislature's directives. At issue is the cap, or number of systems that can be installed in California. Currently the law states that ratepayers are permitted to install solar power systems under net-metering until such time that the amount of power installed is equal to five percent of the sum of peak demand of each customer in a given utility territory. The utilities argue that the number of systems should be limited to only five percent of the utility's peak demand. This slight difference in language would result in a halving of the amount of solar that could be deployed in the State. Should the utilities succeed in rebuking the Public Utilities Commission and State Legislature on this issue, there will undoubtedly be a negative impact on solar employees, companies, and producers.
Dan Sullivan, president of San Diego-based solar company Sullivan Solar Power has recently entered the fray to oppose the utilities' unwillingness to comply with statute. Sullivan has ventured to San Francisco on multiple occasions in order to meet with the Public Utilities Commission and express his concerns, shared with the solar industry, in person. It is rare for a local solar integrator to engage the Public Utilities Commission on Statewide issues. Usually this is left to industry associations. However, for Sullivan these actions are vital to ensure that his customers and employees will continue to benefit from the opportunities that solar energy has to offer.
"I can't just sit back and watch all our hard work come under fire for the benefit of the utilities. I have over 50 employees who depend on my company to support their families and I am not about to let them down by staying quiet. The State of California has aggressive and admirable renewable energy goals which will help move us towards a more sustainable future. If we allow the utilities to undermine the legislature by not adhering to the Net-metering rules, our goals will not be reached," said Sullivan.
The solar community as a whole has rallied to encourage the Public Utilities Commission to compel the utilities to comply. Proponents of solar energy such as Vote Solar, CALSEIA (California Solar Energy Industries Association) and SEIA (Solar Energy Industries Association) are working hard to make the Commission aware of the severe impacts that the industry will face. To date, over 36,000 support letters have been sent to the CPUC encouraging the commissioners to enforce compliance with net-metering law.
"People care deeply about this issue. They want California to continue to go solar, and they agree that Californian's should get fair credit for doing so," said Annie Carmichael, Policy Director at the grassroots organization Vote Solar. "We hope that state policymakers will listen to their constituents and ensure continued access to this energy bill-saving, job-creating backbone of California's growing solar economy."
The efforts of the community members paired with those of industry leaders such as Dan Sullivan are encouraging and must continue to flourish in order to successfully overcome the large utilities stabs at the solar sector. While the debate rages on at the Commission to try to get the utilities to comply with the letter of the law, the utilities have introduced a new bill which would change the law for their benefit. To these propositions Sullivan adds, "For most, when faced with the prospect of either adhering with the law or breaking it, they choose to adhere. With the utilities, they try to change the law rather than comply. I am hopeful both the legislature and Commission let the utilities know that times are changing. Solar is here to stay and they are going to have to live with it."
About Sullivan Solar Power
Sullivan Solar Power is a turnkey solar system provider that delivers solar electric projects from concept to completion. The company has installed over 9,000,000 watts of solar power ranging from small-scale residential to large-scale commercial and municipal systems. Sullivan Solar Power is headquartered in San Diego, CA and owned and operated by Dan Sullivan. Sullivan Solar Power has a longstanding A-plus rating with the Better Business Bureau, with no complaints filed since the business began. The firm has been named one of the fastest growing energy companies in the nation by Inc. Magazine and services all of Southern California. Regardless of project size and scope, Sullivan is committed to delivering the best products and the most qualified professionals to its customers. Visit sullivansolarpower.com for more information.
Featured Product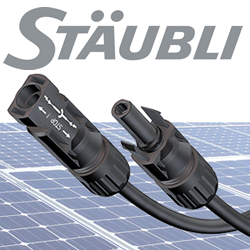 ​Stäubli Electrical Connectors are used on more than 300 GW, over 50% of the PV capacity worldwide. The MC4 family of UL and TUV listed products include connectors, in-line fuses, branch connectors, cable assembly and more.