This is marks the first time in 2012 that the average weighted price dropped below the $30 threshold
El Segundo, Calif., May 11, 2012—With no sign that the oversupply of solar polysilicon is ending, buyers are shifting their purchasing activity to the bargain-basement spot market, contributing to a sharp 11 percent drop in overall pricing in April, according to an IHS iSuppli PV Perspective Market Brief and the IHS iSuppli Polysilicon Price Index from information and analytics provider IHS (NYSE: IHS).

The weighted average selling price (ASP) for polysilicon used in photovoltaic (PV) solar cells plunged to $27.20 per kilogram in April, down from $30.70 in March, as presented in the table below. This is marks the first time in 2012 that the average weighted price dropped below the $30 threshold.
Pricing fell mainly due to larger volumes of sales on the spot market compared to contract deals.
The volume of trades on the spot market, in terms of kilograms sold, increased by 22 percent from March to April. The spot market accounted for 44 percent of polysilicon shipment volume in April, up from 36 percent in March. The remainder was taken up by long-term agreement (LTA) contracts.
"Polysilicon buyers are flocking to the spot market, attracted by the lower prices compared to contracts," said Glenn Gu, senior analyst, photovoltaics with IHS. "This phenomenon is driving down contract pricing, causing the sharp decline in the overall ASP in April. Spot market activity is expected to continue accelerating relative to the contact segment during the coming months, placing further pressure on pricing."
Pricing on the spot market in April ranged from $19.50 to $30.00 per kilogram with an average weighted price of $24.20, IPPI data indicates. Contract prices with LTAs varied from $37.00 to $18.50 with an average weighted price of $29.40.
Overall, contract prices in April declined by 7.8 percent while spot prices decreased by 9.0 percent.
The continued increase in the proportion of spot market sales indicates that the oversupply situation and pricing decreases are likely to continue.
On the spot market, polysilicon is sold for cash by third parties and delivered immediately. In contrast, on the contract market, polysilicon is sold directly by suppliers on credit, often with LTAs for delivery and pricing.
When prices are lower on the spot market compared to contracts, it indicates prices will remain on the decline. When spot market prices eventually rise above those of contracts, that shows the period of oversupply and price decreases has come to an end.
Glut's happening
The global solar polysilicon industry is wrestling with an acute oversupply as production runs far ahead of demand. The decline in polysilicon prices have an impact as well on pricing for solar modules and systems, adding to the woes of the industry in what is already expected to be a challenging year.
IHS predicts global solar polysilicon market revenue will amount to $3.7 billion in 2012, down from $7.4 billion in 2011.
Keeping ahead of the pricing trends
The IHS iSuppli Polysilicon Price Index can be used as a tool to link market price activity to tailored individual needs.
The IHS iSuppli Polysilicon Price Index differentiates by LTA and spot price, the quality of material being produced, and other variables such as region of production, size of transaction and trading terms. Data is collected via a survey among buyers and suppliers, with the information showing weighted averages covering at least 45 percent of market-wide transacted volumes by month.
About IHS (www.ihs.com)
IHS (NYSE: IHS) is the leading source of information, insight and analytics in critical areas that shape today's business landscape. Businesses and governments in more than 165 countries around the globe rely on the comprehensive content, expert independent analysis and flexible delivery methods of IHS to make high-impact decisions and develop strategies with speed and confidence. IHS has been in business since 1959 and became a publicly traded company on the New York Stock Exchange in 2005. Headquartered in Englewood, Colorado, USA, IHS employs more than 5,500 people in more than 30 countries around the world.
Featured Product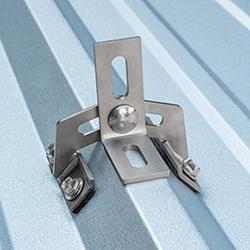 QuickBOLT Low Profile QuickBOLT with Microflashing™ is the industry's affordable, UL Certified Asphalt Shingle mounting system. The Microflashing™ is compressed by the collar on the bolt to create a water-tight seal. With an installation time of less than one minute, the Low Profile QuickBOLT allows installers to complete more jobs.