aleo solar AG expects business in Germany to be moderate for the rest of the year
Oldenburg, Prenzlau, 14 May 2012. aleo solar AG (ISIN: DE000A0JM634) today announced that it generated revenue of EUR 74.6 million in the first three months of 2012. This means that aleo solar's revenue decreased by 14.6% compared to the first quarter of 2011 (EUR 87.4 million). Earnings before interest and taxes (EBIT) came in at EUR –8.2 million (EUR 2.0 million), and the EBIT margin was –11.0 percent (2.3 percent). Earnings per share amounted to EUR –0.63 (EUR 0.06); production volume rose to 87.9 megawatts (75.0 MW).

"The surge in demand that occurred due to the discussion surrounding the EEG amendment enabled us to increase revenue in Germany slightly," said York zu Putlitz, CEO and CFO of aleo solar AG. "But our international business was considerably weaker compared to the same quarter the previous year." As a result, foreign business accounted for 57.2 percent of sales in the first quarter of 2012 (65.0 percent). aleo solar AG expects business in Germany to be moderate for the rest of the year. In Italy, the company's second-most important market, a strong second quarter is anticipated before significant restrictions for the photovoltaic industry are expected to become effective by mid-year.
Based on the close collaboration with its approximately 1,700 specialist dealers and fitters, aleo solar AG intends to increase sales and production in 2012. However, the reductions in feed-in tariffs in key markets like Italy and the resulting price erosion for solar modules are likely to be much more radical than expected up to now, with no increase in the market volume. aleo solar AG therefore lowers its revenue guidance: Previously, the company was aiming for revenue of EUR 440 million in 2012. Now aleo solar AG is predicting revenue of at least EUR 410 million in the current financial year but still expects to record a net loss.
aleo solar AG
aleo solar AG produces and distributes premium solar modules and systems for the international photovoltaic market. Since 2009, the Bosch Group has owned a majority of aleo solar AG (DE000A0JM634), which was originally founded in 2001 and has been listed on the stock exchange since 2006. As a premium manufacturer with 1009 employees, aleo solar maintains a strong global presence with subsidiaries active in all important photovoltaic markets. Its main plant in Prenzlau, Germany and two additional plants in Spain and China provide the aleo solar group with an annual production capacity of 390 megawatts. In 2011, the company's turnover amounted to € 462 million.
Featured Product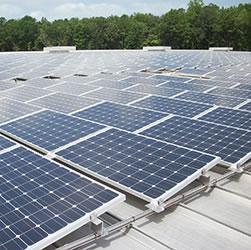 The Power Rail™ Commercial Mounting System is designed with the professional PV solar installer in mind. Both the XD/UD and LD/MD rails feature single tool assembly with the revolutionary patented RAD™ Lock-in-Place bolt for fast and secure module clamping. The high strength marine-grade aluminum rails include an integral wiring channel for securing cables and providing a professional finish.