Next Generation of Metallization Materials Further Improves Cost-of-Ownership for Solar Cell Users
WILMINGTON, Del., May 16, 2012 – DuPont Microcircuit Materials has launched its next-generation back side silver material for high-efficiency solar cells. DuPont™ Solamet® PV51G photovoltaic metallization decreases dependence on silver metals by reducing overall material consumption in solar cells up to 25 percent, while providing better adhesion and maintaining desired efficiency performance of the cells. This new offering is consistent with the continued formulation of leading-edge Solamet® photovoltaic metallization pastes that help cell makers maintain a healthy cost of ownership while improving solar cell efficiency to help reach grid parity faster.

"Since the launch of DuPont™ Solamet® PV51M to the photovoltaic market last September, we have received a great deal of positive customer feedback on the product design concept and the resulting total cost of ownership reduction," said Peter Brenner, photovoltaics global marketing manager, DuPont Microcircuit Materials. "Providing a high-efficiency cell and maintaining a healthy cost structure are critical factors in ensuring sustainability in the photovoltaic market, and materials such as the new Solamet® PV51G play a significant role in making that possible."
DuPont™ Solamet® PV51x series photovoltaic metallization paste products are tabbing conductors made with a breakthrough formulation that enables cell makers to use up to 25 percent less material and delivers comparable electrical performance versus the leading incumbent. This hnail elps reduce dependence on silver metals and offsets some of the impact that rising silver prices have on the cost of producing solar cells and modules. All the Solamet® PV51x series products provide an excellent printability window; ability to co-fire with current Solamet® front side silver pastes; a superior adhesion window; reduced laydown; reduced tab footprint; and are made without lead or cadmium.
The new Solamet® PV51G photovoltaic metallization back side paste is a highly conductive, solderable silver composition, developed to provide excellent adhesion when used in conjunction with back side aluminum compositions. This paste may be co-fired with front side (n-type) silver conductors such as DuPont™ Solamet® PV15x, PV16x, and PV17x and with back side (p-type) aluminum conductors such as DuPont™ Solamet® PV3xx. Solamet® PV51G is applied in a standard screen print process.
DuPont MCM has over 40 years of experience in the development, manufacture, sale and support of specialized thick film compositions for a wide variety of electronic applications in the photovoltaic, display, automotive, biomedical, industrial, military and telecommunications markets. For more information on DuPont Microcircuit Materials and Solamet® metallization pastes, please visit http://mcm.dupont.com.
DuPont™ Solamet® pastes are part of a broad and growing portfolio of products represented by DuPont Photovoltaic Solutions (DPVS), which connects science and technology from across the company on a global scale to help support the dramatic growth in the photovoltaic industry. To learn more, please visit http://photovoltaics.dupont.com.
DuPont (NYSE: DD) has been bringing world-class science and engineering to the global marketplace in the form of innovative products, materials, and services since 1802. The company believes that by collaborating with customers, governments, NGOs, and thought leaders we can help find solutions to such global challenges as providing enough healthy food for people everywhere, decreasing dependence on fossil fuels, and protecting life and the environment. For additional information about DuPont and its commitment to inclusive innovation, please visit www.dupont.com.
Featured Product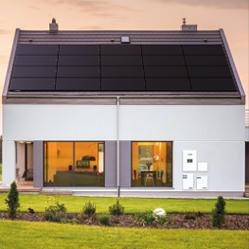 The Q.Home+ ESS HYB-G1 energy storage solution offers scalable storage capacity from 4.5 kWh up to 18.9 kWh and comes in a modular design for easy and fast installation. The system is offered in both DC-coupled and AC-coupled configurations and can connect up to 3 batteries in series using only one inverter and battery management system (BMS). The system includes an integrated backup power function for 100% of the rated inverter output to support critical loads in the event of power failure and offers remote monitoring using the QHOME+ web portal or QHOME+ ESS mobile app.