Solar Industry Leader Continues to Offer Exclusive Educational Opportunities for the US
ROCKLIN, Calif. and TORONTO, May 17, 2012—As popular demand for SMA Regional Forum events continues, additional dates have been announced through 2012. SMA's Sunny PRO Club—a membership-based professional partnership program for solar installers—will host six Regional Forums during the latter half of 2012.

The remaining events—free with pre-registration—are planned for select U.S. cities, with the next forum taking place June 26, 2012, in Phoenix, Ariz. Forums took place in cities across the U.S. and Canada during the first half of the year.
Installers and electrical trade professionals benefit from the Regional Forum's slate of technical training, hands-on product workshops and informative presentations provided by the SMA Solar Academy. Topics include micro-string hybrid photovoltaic (PV) systems, monitoring tools and solutions, off-grid battery backup overview and small commercial applications.
"We've seen great turnout at the Regional Forums this year and are pleased to extend the schedule through the end of 2012," said Ciara Wakefield, Sunny PRO Club manager for SMA America. "Regional Forums allow SMA to personally demonstrate its commitment to installers through free technical training and exclusive networking opportunities."
SMA Solar Academy technical trainers facilitate training sessions at each Regional Forum. Sessions include:
• The Boost Your Profits: Best Practices for Residential Design training session provides an overview of tools—such as SMA's Sunny Design and Solarchecker software—that help installers optimize their PV systems.
• Grow Your Business: Commercial Systems Made Easy explains how installers can apply their existing experience and knowledge in the residential market to expand into small commercial applications through decentralized PV system concepts.
• Monitoring Makes Cents: Increase Profitability and Performance through Communications introduces the SMA family of monitoring systems, with particular emphasis on how to set up and use the Sunny Portal to track multiple arrays remotely.
• Information about island and battery-backup systems for residential and commercial applications is included in the session entitled The Gold Standard in Off-Grid and Battery Management Systems: Sunny Island Technical Overview.
• Finally, A New Standard in Residential Inverters: Sunny Boy HF is a hands-on workshop that now includes information about micro-string hybrid systems, as well as a sneak peek of SMA's upcoming Sunny Boy 240 micro inverter.
Rounding out the Regional Forum schedule is a presentation from the Sunny PRO Club team. During the presentation Regional Forum attendees can learn more about how the Sunny PRO Club's customized marketing support, exclusive technical benefits and access to SMA Service personnel can increase sales and improve operations.
To conclude each event, the SMA Sales, Service, Solar Academy and Sunny PRO Club representatives hold a panel discussion and Q-and-A session.
For more information about the Regional Forums or to register please visit www.SMARegionalForums.com, email RegionalForums@SMA-America.com or call 877 506 1747. Registration is free for solar installers and those in related businesses.
REGIONAL FORUM SCHEDULE
6/26/12, PHOENIX: Sheraton Crescent Hotel, 2620 West Dunlap Ave., Phoenix, AZ 85021
6/28/12, AUSTIN: Hilton Austin, 500 East 4th St., Austin, TX 78701
7/24/12, NASHVILLE: Sheraton Nashville Downtown Hotel, 623 Union St., Nashville, TN 37219
8/28/12, SAN DIEGO: Hyatt Regency Mission Bay Spa & Marina, 1441 Quivira Rd., San Diego, CA 92109
10/18/12, ST. LOUIS: Renaissance St. Louis Grand Hotel, 800 Washington Ave., St. Louis, MO 63101
11/8/12, SACRAMENTO: SMA America, LLC, 6020 West Oaks Blvd., Suite 300, Rocklin, CA 95765
About SMA
The SMA Group generated sales of €1.7 billion in 2011 and is the global market leader for solar inverters, a key component of all PV plants. It is headquartered in Niestetal, near Kassel, Germany, and is represented in 20 countries on four continents. The Group employs more than 5,500 people worldwide, plus a number of temporary employees that varies on a seasonal basis. SMA's broad product portfolio includes a compatible inverter for every type of module on the market and for all PV plant sizes. The product range includes inverters both for grid-connected PV plants and for off-grid systems. SMA can therefore provide an ideal inverter solution for all plant sizes and types. Since 2008, the Group's parent company, SMA Solar Technology AG, has been listed on the Prime Standard of the Frankfurt Stock Exchange (S92) and also in the TecDAX index. In recent years, SMA has received numerous awards for excellence as an employer and in 2011 and 2012 achieved first place in Germany's nationwide Great Place to Work® competition.www.SMA-America.com/www.SMA-Canada.ca
Featured Product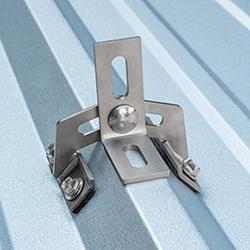 Error-Proof Compression: The QB2 doesn't leave any room for user error when it comes to Microflashing® compression. Once the Dual Drive Shoulder Screw is secured, the Microflashing® is compressed. Only 3 Components: The QB2 is comprised of Microflashing®, an L-foot and a Dual Drive Shoulder Screw. No more Nuts needed to tighten and secure the L-foot! Not only does this simplify the installation process, it also cuts down the installation time.