SolarWorld: Retroactive duties could help dampen illegal Chinese export drive
HILLSBORO, ORE., May 17, 2012 – The U.S. head of SolarWorld voiced confidence that today's announcement of preliminary U.S. anti-dumping duties on imports of solar cells and panels from China's state-sponsored manufacturers could begin to help restore legal and fair global competition and revive growth in U.S. solar-industry manufacturing and jobs. The duties were calculated to counter the Chinese industry's illegal practice of dumping products, or selling them at artificially low prices, in the United States to seize market share here.

The U.S. Department of Commerce issued anti-dumping duties of 31.14 percent on imports of solar cells and panels from Suntech, 31.22 percent from Trina Solar, 31.18 percent from other companies that had requested but not received individual duty determinations and 249.96 percent from all other Chinese producers, including those controlled by the Chinese government.
The department also announced that in light of a massive, evasive surge of imports ahead of the determination, these new duties would apply retroactively 90 days. As a result of this determination of so-called critical circumstances, importers of Chinese solar products must post bonds or cash deposits in the full amounts of anti-dumping duties on imports from now forward as well as back to mid-February.
"Today, SolarWorld and the many industry players who embrace the sustainable efficiency gains and price declines that come from fair competition can take heart that the U.S. government is standing up against Big China Solar," said Gordon Brinser, president of SolarWorld Industries America Inc. and leader of the Coalition for Solar Manufacturing (CASM). "Commerce's careful measures could help thwart China's illegal drive to control the solar market and supplant manufacturers and jobs in America, the very country that invented, pioneered and innovated solar to today's mainstream viability."
"For the many former employees of at least 12 solar producers that have staged layoffs, shuttered plants or entered bankruptcies since 2010, it may be too late. But today's announcement gives rise to the possibility that domestic solar manufacturing, environmentally sustainable solar production and robust global competition might one day soon return to boosting U.S. manufacturing, jobs and energy security."
"In our trade cases, the administration of President Obama is taking steps to fulfill pledges to hold China accountable to U.S. and world trade laws," he said. "We look forward to seeing Commerce's careful investigations and findings continue to develop through September."
SolarWorld – the largest, most experienced and only fully vertically-integrated manufacturer of crystalline silicon solar in the Western Hemisphere – began leading CASM when it filed its trade cases on Oct. 19 with support from six other manufacturers. Since then, CASM has grown to 210 employers representing more than 17,121 employees, about 85 percent operating in downstream businesses such as solar system installation.
In representing the domestic manufacturing industry, SolarWorld contends that the government of China has showered its manufacturers with support to cover costs in many phases of their business lives, spur them to massively overbuild production capacity, export more than 90 percent of production and sell solar products at dumped prices in the U.S. market. The National Renewable Energy Laboratory estimates that without such sponsorship, Chinese producers confront a 5 percent cost disadvantage in producing and delivering solar into the U.S. market, compared with domestic producers. In March, the largest Chinese producer said unsustainably low pricing will "rationalize" as competition is driven out of business.
In March, Commerce issued a preliminary determination that 10 categories of Chinese subsidy programs were illegal under U.S. and world trade law and imposed anti-subsidy duties ranging from 2.9 percent to 4.73 percent to counteract those subsidies. The anti-dumping duties are added on top of the anti-subsidy duties. The department also found critical circumstances relating to the anti-subsidy determination, meaning that those duties are being collected on solar cells and panels imported from then forward as well as back to late December. The preliminary determination was incomplete, however, and Commerce is expected yet this month to determine the extent of duties to offset additional categories of subsidy programs.
After today's ruling, Commerce will immediately initiate a final, more in-depth phase of its investigation, including examinations of solar operations and financial records in China.
About SolarWorld (www.SolarWorld.com)
SolarWorld (ISIN: DE0005108401) is a worldwide leader in offering brand-name, high-quality, crystalline silicon solar-power technology. The company's strength is its fully integrated solar production. From silicon as the raw material through wafers, cells and panels all the way to turn-key solar systems of all sizes, the group combines all stages of the solar value chain. The central business activity is selling high-quality panels into the installation and distribution trades and wafers to the international solar cell industry. Group headquarters are located in Bonn, Germany, with sales sites in Singapore, South Africa, Spain, France as well as in the U.S. state of California. The group's largest production facilities operate in Freiberg, Germany, and Hillsboro in the U.S. state of Oregon. Sustainability is the basis of the group strategy. Under the name Solar2World, the group supports community aid projects using off-grid solar-power solutions in developing countries, exemplifying sustainable economic development. Worldwide, SolarWorld employs about 3,300 people. SolarWorld AG has been quoted on the stock exchange since 1999 and today is listed on, among others, the TecDAX and ÖkoDAX as well as in the sustainability index NAI.
Featured Product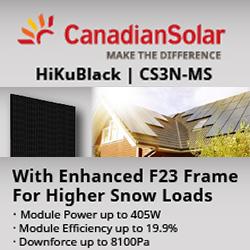 Aesthetic appearance for residential systems: With black backsheet & black frame, Power range 380 ~ 405 W, Low power loss in cell connection. Enhanced reliability: · Low temperature coefficient (Pmax): -0.34 % / °C, LID LeTID less than 2.0%, Lower hot spot temperature, Better shading tolerance.