Also some companies buy rejected metal accessories directly from individuals.
Recycling is definitely a green word. It is environment friendly as well as pocket friendly. Most of the domestic and commercial appliances are made of metals. Metals can be categorized into two categories viz. ferrous metals and non ferrous metals. Ferrous metals are iron and steel while non ferrous metals are tin, copper, aluminum, brass etc. Many metal accessories become defective and useless after few years of usage. Normally, those items find their way to waste bins only. However, these accessories can be recycled and can be used to manufacture new things. The good thing about metals is that metals can be recycled and reused numerous times without degradation of quality. Therefore, non ferrous metal recycling is a wise business option for organizations and individuals.

Non ferrous metal cycling process involves four steps. At first old, defective and used metal accessories are collected from various locations. These rejected items can be found in garbage or may be collected from households. Then those are processed and shredded. And finally, those are sold to mills that reuse those metals to manufacture new things. The accessories produced from recycled metals are same in quality as a virgin item.
Nowadays, many companies as well as individuals are involved with the
non ferrous metal recycling
business as this business offers a steady and regular return. Rejected metal items can be donated to organizations. Some companies offer new things at lower price in exchange of rejected metal accessories. Also some companies buy rejected metal accessories directly from individuals. The metal recycling process needs up to 74% less energy compared to the natural process of extracting metals. So, it causes less air pollution from incineration and less water pollution from land filling thus reducing need for conventional waste disposal. Besides these, things manufactured from recycled materials costs cheaper. Also recycling needs less manpower. Lead from car batteries, gold from old computer components, mercury from various items, aluminum cans etc. are some common recycled materials.
Featured Product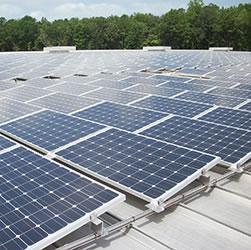 The Power Rail™ Commercial Mounting System is designed with the professional PV solar installer in mind. Both the XD/UD and LD/MD rails feature single tool assembly with the revolutionary patented RAD™ Lock-in-Place bolt for fast and secure module clamping. The high strength marine-grade aluminum rails include an integral wiring channel for securing cables and providing a professional finish.