GeoSmart introduces state of the art compact multi loop feeder and pump puller to North American drilling industry at CanWell conference in Hamilton, ON.
Cambridge, ON – GeoSmart Energy is elevating the Canadian geothermal drilling industry to

a new level of efficiency with its recent acquisition of a new time saving multi loop and pump handler designed specifically for geothermal drilling applications, but with additional applications for the water well industry as well. Compact and powerful, the GeoSmart Push'N Pull simplifies the installation of geothermal pipes in vertical drill applications, saving time, money and manual labour.
"GeoSmart is proud to bring this innovative new drilling equipment to Canada where it's destined to have a profound impact on geothermal drilling installations across North America," says Stan Marco, President and CEO, GeoSmart Energy and GeoSmart Drilling Services. "Geothermal drillers will appreciate its 'push' factor for inserting pipe while water well drillers will love its 'pull' factor for extracting pumps from the ground."
Manufactured in the United Kingdom, the Push'N Pull virtually eliminates the need for three-man teams during the drilling and installation of 1 ¼" geothermal pipes. It simplifies the process by generating the power of four men and allowing for the simultaneous installation of the pipe and
grout tremie line at the same time.
"What was previously taking us two hours to do, we can now do in as little as a half hour and with
just a two-man crew," says Paul Catton, drilling manager with GeoSmart Drilling Services. "It's not
only cost effective, but easy to use, making the installation of geothermal pipe a much more
efficient process."
The Push' N Pull, multi loop and pump handler will safely clamp into the breakout table in most existing drill rigs in a matter of minutes and runs off the rig's existing hydraulics making it easy to operate. Weighing just 80 kilograms, the powerful multi loop and pump handler will both push and pull so that pipe can easily be extracted from the hole in the event of a blockage.
"The installation of 1 ¼" pipe during vertical drills on residential properties is considered best practice in terms of geothermal pump efficiency but can be challenging to do given the size and weight of the pipe and depth of the hole," says Marco. "This piece of equipment supports best practice by eliminating the manual labour power previously required to support the installation of larger geothermal pipes."
GeoSmart Drilling Services is the North American distributor for the GeoSmart Push'N Pull.
-30-
GeoSmart Energy is a leading geothermal heating and cooling supplier to residential and commercial markets. As one of the largest purveyors of geothermal technology and training, GeoSmart is continually asked globally for their knowledge and geothermal implementation expertise. Visit us at www.geosmartenergy.com
Media Contacts:
Robert J. Longphee, Director, Marketing & National Business Development
GeoSmart Energy
290 Pinebush Road, Cambridge, ON N1T 1Z6
t: 866.310.6690
f: 866.533.3889
rlongphee@geosmartenergy.com
Featured Product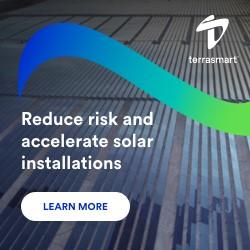 The first and only single axis tracker that allows you to turn unusable land into valuable assets. Built tough for reliable performance, TerraTrak will maximize energy output and returns conquering the most challenging sites. Employ PV where you never thought possible through durable mechanics and intelligent control technology.