The 20th European Biomass Conference and Exhibition will take place in Milan, Italy, from 18 to 22 June 2012. This annual event constitutes one of the world's leading science-to-science, business-tobusiness and science-to-industry fora for the biomass sector.
One of the highlights of the 2012 Conference Opening on Monday, 18 June, will be the launch of the first World Forum on "Fuel, Food and the Environment: The Bioenergy Challenge".

How can policy makers guide Europe towards a sustainable bioenergy solution?
Main purpose of the World Forum is to stimulate open discussion from all stakeholders on the future of bioenergy and biofuels, and specifically, how policy makers can steer a sustainable course through the many complex issues within the biofuel debate.
Issues that will be debated by leading experts include:
• steps towards worldwide governance of biofuels
• development of International common approaches to sustainability and climate change mitigation
• factors effecting the impact of biofuel production on food, environment and green house gas emissions
• regulatory approaches to reduce Indirect Land Use Changes effects on the environment, green house gas emissions and food production
• the interaction between the scientific community, interest groups and the policy-makers
This World Forum will bring together key politicians, leading international scientists, industrial representatives, major NGOs, and will host the first round table "towards a sustainable bioenergy solution".
The forum will have the following format:
Morning Session
Opening - Giuliano Pisapia, Mayor of Milan and Dominique Ristori Director General JRC, European Commission
Session 1. Policy
Roundtable with presentations from:
• Corrado Clini, Italian Minister for the Environment, Land and Sea
• Roberto Formigoni, Commissioner General of Expo Milano 2015
• Philip Lowe, Director General DG ENERGY, European Commission
• Humberto Delgado Rosa, Director of "Mainstreaming Adaptation and Low Carbon Technology", DG CLIMA, European Commission
• Giovanni De Santi, Director of the Institute for Energy and Transport, JRC, European Commission
• Representatives of ministries from key countries
Afternoon
Session 2. Scientific/technical forum
Global experts from regulatory bodies, scientists and stakeholder from EU, US, Brazil, Malaysia, China etc. will participate in a unique debate on how science based evidence can help policy makers.
Participants include:
• Stefan Bringezu: Director of the Wuppertal Institute for Climate, Environment and Energy
• Drew Kodjak: Executive Director of The International Council on Clean Transportation (the ICCT)
• Govinda Timilsina: The World Bank (Development Research Group)
• Ariel Brunner: Birdlife International
• Food and agriculture Organisation
The programme of the World Forum will also include panel discussions moderated by top EU journalist, press conference, and ample opportunities for discussion and debate.
Press Inquiries:
Press Office of the 20th European Biomass Conference and Exhibition
Tel. +39-055-5002280
E-mail: pressoffice@etaflorence.it
www.conference-biomass.com
Featured Product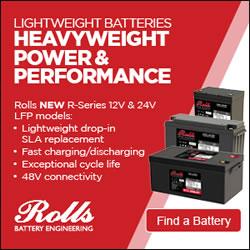 Designed for true drop-in replacement, Rolls new R-Series 12V & 24V LFP lithium models offer a maintenance-free lightweight flooded and SLA alternative in four popular BCI case sizes with fast charge/discharge capability. Rolls custom built-in BMS provides all necessary operating protections for safe operation and seamless integration for deep cycle replacement in 12V, 24V or 48V systems.